If you're striving for weight loss, combining a healthier diet with high-intensity, calorie-burning workouts like a TITLE power hour is the best way for you to shed pounds. But it can be tough to fight off the temptation to reward yourself with some sweets post-workout or indulge in a higher-calorie comfort food in the cool fall months.
Healthy diets have a bad rap, but did you know that there are simple ways to cut calories and fat in your cooking without sacrificing any flavor? These easy recipe substitutions prove that eating healthier doesn't have to mean eating blander! Use them in your favorite dishes (including sweets!) to stay fit without feeling famished.
The best part? All of the healthy recipe substitutions listed here involve items that you probably already have in your pantry! If not, they're all easily found at your local grocery store. Grab a pen and jot them down on your grocery list so that you can use these healthy recipe substitutions in your next home-cooked meal.
Healthy Recipe Substitutions
If the recipe calls for flour, substitute whole-wheat flour.
Whole-wheat flour is an easy and natural recipe substitution, whether you're baking, making sauces, or breading chicken breasts. The grains in white flour are heavily-processed, while those in whole-wheat flour are not. What does this mean for your health? Nutritionally, white flour lacks the fiber-rich grains that whole-wheat flour is full of, meaning it also lacks the health benefits. Use whole-wheat flour as a recipe substitution and you will lower your cholesterol,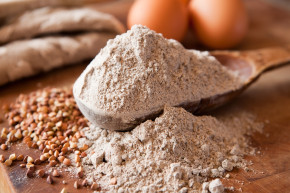 avoid constipation, and lose weight!
Whole-wheat flour also has a lower glycemic index, or GI, meaning your body breaks it down into sugars more slowly, keeping you more full for longer after you've eaten. It's an ideal recipe substitution for weight loss: easy to swap out (just measure out whole-wheat flour equal to the amount of white flour your recipe calls for) with real health benefits!
When baking, swap applesauce for oil.
This is another of the 1:1 recipe substitutions that's a nutritional no-brainer. A glimpse at the label on your vegetable oil bottle will tell you that it's swimming with calories and fat. What's worse is that oil doesn't provide additional flavor to your baked goods–its basic function is to add wetness to the dry mixture. Using applesauce as one of your healthy recipe substitutions will cut the calories and fat of your baked goods while maintaining their consistency and moisture, plus injecting your diet with more fiber, vitamin C, and the weight-loss helper pectin!
Use spray-able cooking oil to stop sticking on the stovetop.
When sautéing vegetables or cooking meats in a pan, an easy recipe substitution is switching the butter or oil for non-stick cooking spray. This simple swap lowers the fat and calories in your meal.
Nix the salt to increase flavor & lower cholesterol.
Need a healthy recipe substitution to lower your sodium intake? Ditch the salt and switch to herb-based seasonings, lemon or lime juice, or finely-chopped fresh herbs to infuse your dishes with flavors, not to mention nutritious vitamins and minerals. Salt inhibits weight loss by encouraging your body to retain water, plus it can lead to higher cholesterol. The above recipe substitutions for salt will eliminate these problems.
Try these recipe substitutions at home today!
Sometimes, cooking when you're on a diet can be difficult, leading to boring repeat dishes, bland baked chicken, or lots and lots of salads with oil and vinegar. Nutritious and delicious recipes are easy to create just by using healthy recipe substitutions for unhealthy ingredients. As all of the above recipe substitutions show, using ingredients that are lower in fat and calories, you don't have to substitute taste for health. And most recipe substitutions are quite easy to implement in your cooking routines–just take care to check the ingredient ratios when making the swap.
Test out one of our recipe substitutions today, then let us know how your healthier foods taste in the comments!