Getting your kids in the kitchen can be a great way to have quality time with them and to encourage creativity and learning. Kitchen time with your kids can spark fun memories that they'll have for years to come.
Cooking with kids doesn't have to be a chore. You and your kids can have a blast and create some delicious items. But, children can be picky and stubborn. How do you get the kids into the kitchen and working on your next meal together?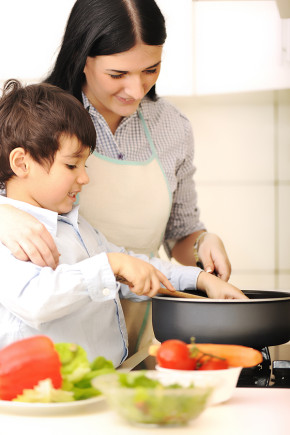 Here are the basics for helping your children feel comfortable in the kitchen.
Cooking with Kids: The Basics
When inviting kids into the kitchen, there are some safety and practical issues to address. Here are answers to common questions people have about cooking with kids:
What age is appropriate to start cooking with kids?
Kids at age 4 or 5 are at the ideal age to start in the kitchen. You can teach them the basics of safety and food preparation. This is also a great time to teach them what the basic cooking and food prep tools are. Explain the mixing bowl, measuring cups, spatulas and more.
How can I limit the mess that my kids can make while preparing food?
It is always a good idea to include clean up while you teach kids the basics of food prep. Show them how to put ingredients away as you cook. Explain the best ways to clean certain appliances and utensils. Teaching kids to maintain a clean area can greatly reduce the mess that many people fear that kids can make in the kitchen. Keeping a clean surface also increases safety.
What are some dishes that kids love making?
Kids love making all types of dishes, but they especially enjoy making things that they like to eat. Remember that children will enjoy baking or cooking things that don't require more kitchen skills than they've learned. So, keep the dishes easy for new little chefs and gradually introduce more challenging dishes as they feel more comfortable in the kitchen.
What should you teach the kids first?
Some things that you can get kids started with in the kitchen are seasoning, mixing, stirring, pouring, and measuring. This gives them a chance to get a hands on learning approach to the basics of cooking and preparing meals in the kitchen. Cooking and baking are great educational exercises. They can practice numbers and math while they improve their motor skills.
5 Tips for Cooking With Kids:
1. The most important thing for beginners to learn in the kitchen is safety.
2. Make it fun and educational at the same time to keep the attention on their task at hand.
3. Keep them busy so that they feel involved.
4. Allow them to use their creativity so they can keep coming back for more.
5. Reward them by allowing them to taste the food they helped make.
By keeping these important points in mind you and your kids can have a great time in the kitchen making lots of great foods and memories. We love getting our kids involved in the kitchen early to encourage healthy eating habits. Like TITLE Boxing Club on Facebook for more updates and tips for your family!