Most of us have memories of baking with our families during the holidays.
Every family has their own famous recipe; some have a cherished pecan pie recipe passed down generation to generation while others use a rich fudge recipe throughout the holiday season. You probably have a few holiday family recipes in your collection.
Holiday baking isn't exactly the healthiest activity — most of the treats of the holiday season are loaded with butter and sugar.
Even though these treats are not the healthiest thing to have sitting around our counters, we understand that holiday baking is a family tradition. It's a part of the season as much as snow and fireplaces.
So, don't ditch your family baking this year. Instead, you can try healthier baking substitutions and replace a few baking afternoons with some family activities.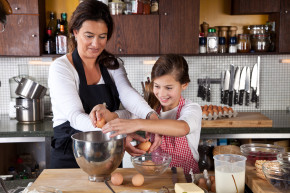 Holiday Baking: Substitutions
Pecan pie
Pecan pie is a classic holiday dessert — but the calories and sugar packed into that scrumptious slice of pie really sneak up on you. Try pecan cookie bars, which can be served up in smaller squares that satisfy your sweet tooth without the excess crust.
Party Mix
Whipping up a batch of party mix is a quick fix for hungry family members and guests. When you're serving up something so tasty and crunchy in a huge bowl, however, it's almost impossible to stop munching. Instead, roast up some pumpkin seeds or almonds for a healthier snack.
Holiday Baking: Activity Swaps
"In the Oven" Dance Party
While your treats are in the oven, get the whole family moving. Turn up the music, start by washing the dishes and cleaning up — but move on to throwing down your best dance moves on the kitchen floor!
Craft Party
Homemade baked goods are wonderful gifts, but creating a personal gift can be just as special — and last longer. Find a few seasonal crafts and get the materials. You can make decorations, gift boxes and bags, personalized cards and more. Just use your imagination!