It's the time of year that we sit down at the table to enjoy a meal with friends and family — but we eat so much that we need a nap to recover.
When only a nap will help you recover from your holiday meal, there might be a problem. This year, let's commit to enjoying the holiday season — games, laughter, football games, parties, and food included. Let's enjoy the meal, but stop before we burst.
To help you moderate at the holiday meals, you just need to follow a few healthy eating habits. Good eating habits deal with more than what you eat. They include how you serve food, how fast you eat and how you think about your meals.
Stick to these healthy eating habits for an awesome holiday season:
Healthy Eating Habit #1
Make your comfort foods in individual portions. Muffin tins are the perfect tool to help you control portions. Bake stuffing or macaroni and cheese in muffin tins for a tasty serving of your dish. You'll realize one serving is enough.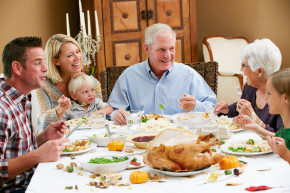 Healthy Eating Habit #2
Don't skip meals to "save up" before your big holiday meal. Some people change their eating habits during the day so they can indulge, but this approach doesn't work that way. Instead of skipping meals, space several small healthy meals out throughout the day.
Healthy Eating Habit #3
Think about the order of your meal. If you pile creamy, greasy comfort foods on as soon as you sit down, you're probably going to fill up on those and pass over the greens and protein. Start with the turkey or protein, then move on to greens and fresh veggies and fruits. Save the comfort foods for last, when you're less likely to overindulge on them.
Healthy Eating Habit #4
Focus on your environment. Take note of the decorations, table setting, and space. Most of all, enjoy the friends and family around you. When you focus on enjoying the experience of the meal, you're picking up on the most important healthy eating habit.
Healthy Eating Habit #5
Be selective. If you're passing through the buffet line or choosing desserts from a huge spread, realize that you don't have to eat it all. It's okay to pass over the items you don't like and the ones you can eat at any time of year. Go for your favorites and enjoy them (in small portions.)