A healthy Halloween sounds unnatural, doesn't it? Why would you want to make a candy-centered holiday a healthy occasion? If you think about the sheer amount of candy that your family will munch on this month, you can list a few good reasons for having a healthier Halloween.
The good news: a healthy Halloween can still be fun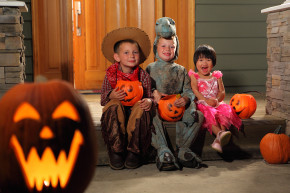 You can transform Halloween for your family without taking away the candy or the fun. Make a few simple changes to keep your holiday from turning into an all-day candy fest.
Healthy Halloween Tip #1 – Better Snacks
Candy is everywhere you look in October. Keep their candy intake lower by helping your family fill up on better snacks. Pick up some special treats and make a few things at home. Cut fruits and veggies into fun halloween shapes for an afternoon snack. Have some animal crackers, granola bars and whole grain crackers with you in case hunger strikes while you're out shopping or running errands.
Not sure you can give up the candy? Check out how to kick that candy craving to the curb!
Healthy Halloween Tip #2 – Halloween Meal
Halloween night can get hectic — fast. Since Halloween is on a school night this year, the night may seem even shorter. Cooking a healthy dinner before the kids go trick-or-treating might be a challenge. It's important to serve a healthy and filling dinner before the kids fill up their candy bags. Prepare for the busy night by cooking a veggie-filled casserole earlier in the week. Pop it in the oven and mix up a salad on the side. Add some fruit for a complete healthy meal.
Healthy Halloween Tip #3 – Switch it up
You know the kids will score big on Halloween night. Why not hand out something different? Kids will love finding a small toy in their bag at the end of the night. Buy some crayons, small play-doh containers or sticker sheets.
Healthy Halloween Tip #4 – Get Moving
Most kids want to start thinking about Halloween weeks before October 31. If you're kids are itching to carve pumpkins and set up haunted houses while dressed in their Halloween costumes, you can take advantage of their spirit. Turn some of their favorite activities into active games. You can get the whole family exercising together by putting together Halloween games and events. Race through the corn maze or host Halloween olympics in the yard.
A healthy and fun Halloween is not impossible. Make the holiday one to remember by throwing in some healthy snacks and activities. Remember this Halloween as more than one giant candy-eating night!