If you want your family to stay healthy, you need to get everybody off the couch for some recreational activities in the backyard. Growing kids require a lot of exercise for the proper development of their muscles and bones. Family games also strengthen the bond between you and the kids.
Below we have several examples of outdoor games you can add to your daily routine. We've included the health benefits of each game idea, too. These games are great for the family reunion, a picnic or campground.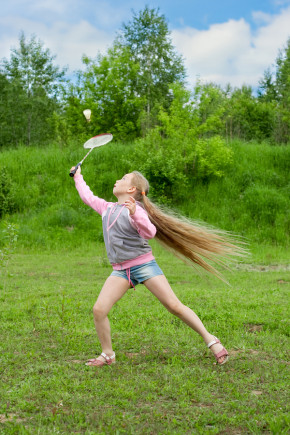 Family Games to Try
Badminton
Badminton requires proper coordination of the arms and legs to control the racket and fly the shuttlecock perfectly. It doesn't require too much money to start because rackets and shuttles are readily available and affordable. Badminton ensures that your kids are exercising the muscles of their upper and lower limbs. Hand-eye coordination, cardiovascular health and agility also get boosted with this game.
Ladder Golf
It can be played by two or more people or in teams. Each person has three bolos. A bolo has two golf balls joined with a rope. The ladders consisting of three rungs are placed at a distance, usually fifteen feet, away from each other.
The object of this game is to wrap the three bolos you have around one single rung. The top rung is worth three points, the middle rung two points and the bottom rung is worth one point. The game continues until one of the players attains 21 points to win. These are one set of rules, but you may change the rules to fit your family.
Ladder golf aids in hand-eye coordination and improves on balance because you must avoid stepping on the toss line when throwing a bolo.
Frisbee
Throwing the frisbee can get you running, jumping and moving fast. Several health benefits are associated with Frisbee. It is a great way to burn calories and to work on coordination. Make up fun games and rules to design your own game with the frisbee.
Soccer
Kicking around the soccer ball in the front yard is an excellent form of exercise. You can get the whole family involved and be as competitive as you'd like.
Soccer improves cardiovascular health. Since it requires constant movement, it keeps the body engaged for a long time. The game increases muscle tone and increases endurance.
Your Favorite Family Games
This list is just a start. Get off that couch, head outside with your family and get your wheels spinning. You may be surprised at all the fun games your family members pick to play! We'd love to hear what your family loves to do together. Let us know your favorite family games in the comments. Don't forget to like TITLE Boxing Club on Facebook where our active community shares ideas and inspiration every day.