We all know that staying physically fit is important, but we also know that busy schedules get in the way of exercise routines sometimes. What's the good news? There are easier and fun ways to burn calories.
One of these ways is to play with your kids. If you are always working and just want to spend a little time with your kids, this is perfect for you. You'll have so much fun bonding with your kids that you might not even notice how hard you're working.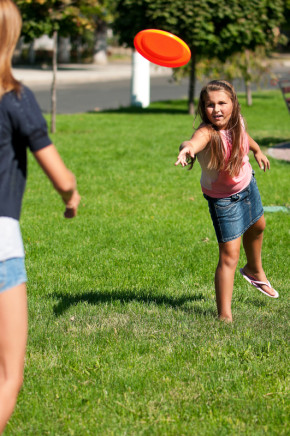 Swimming
This is the perfect activity for a warm sunny day. Take your kids out to the pool and enjoy splashing in the water as you cool down and burn 50 calories in just 12 minutes.
Frisbee
This can be done in the backyard or at the park. Just throw the Frisbee around for a few minutes and burn 57 calories every 12 minutes. The game improves hand-eye coordination.
Skipping Rope
Take a trip down memory lane and join your kids in skipping rope. After 5 minutes of this you will burn about 59 calories and have lots of laughter.
Play Tag
Chase your kids around the backyard or park and after 9 minutes you will have burned 50 calories. You might be surprised to find that your kids have a different version from the one you know.
Hopscotch
Have some fun with your kids as you play some hopscotch. After 10 minutes you will burn about 57 calories.
Jumping Jacks
Jumping jacks will have you and your kids burning 56 calories in only 6 minutes.
Tennis/Ping pong
You get to teach your children the importance of teamwork (if playing in doubles), have fun and burn 59 calories in just 10 minutes. What could be better than that?
Play Mini Golf
This is perfect for you dads out there who love golf. You get the chance to bond with your kids, introduce them to a great game and also burn around 54 calories in just 15 minutes. Who knows. You might realize that your kid is the next Tiger Woods!
Dancing
Turn up your favorite song and dance with your little one. You will have so much fun you won't notice as the hours pass by and you will break a sweat and burn more than 20 calories in 30 minutes depending on the type of dancing.
Basketball
If your kids are a bit older you can try playing some basketball, soccer, football or baseball. After just 10 minutes you will have successfully burned around 60 calories.
Push a stroller
If your child is too young for most games, don't despair. Pushing a stroller in the park will have you burning 59 calories after just a 20 minute stroll. You will also notice that you'll get back feeling much happier and relaxed.
You may just decide to chase your little ones around the house or carry them on your shoulders. Whatever activity you choose, you can be happy knowing that you will have formed a good relationship with your kids and worked toward your fitness goals.