Since April is Cancer Control Month and the weather is generally pleasant throughout the US, there are a variety of cancer awareness 5Ks nationwide throughout this month and the next.
Cancer awareness 5Ks are perfect for the whole family to participate in, not just the adults. Not only are these events a way to teach your children the importance of cancer awareness and charity, they are also a great way to promote family fitness!
Need more convincing as to why your family should participate in a 5K? Here's why TITLE Boxing Club is a fan of family-friendly 5Ks!
Why Your Family Should Run a 5K
They're Easy to Train For & Run
Your family is probably busy, which means that finding time to train for a 5K might seem daunting. But while training for a half-marathon or marathon is a very intensive process that most kids won't have the time, patience, and physical abilities for, training for a 5K is relatively easy. Even mainly sedentary folks can take up training quickly; just 3 days of moderate exercise a week, including running and walking, will be sufficient.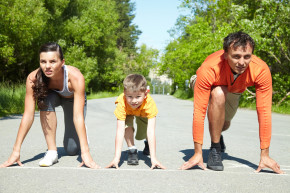 Likewise, the actually 5K won't be too challenging for your family to run. Most 5Ks allow participants to walk or run as they please, so families with younger children can set their own pace.
Participation is Convenient
Again, as a busy family, you don't have time for a complicated registration process. Most 5Ks are extremely convenient to sign up for — many have online registrations — and they're also easy to check-in on day-of, requiring arrival just 10 – 20 minutes before race time, a brief warm-up, and then race and cool-down.
5K Family Bonding
Add Variety to Your Family Fitness Routine
Establishing a family fitness routine is very important — but it's also key to change that routine up so that you're working different muscle groups and preventing injury. The longer duration of cardio in the 5K will elevate your max VO2, which helps you maximize calorie burn — plus it will result in improved form and balance.
Ready to participate in a cancer awareness 5K with your family? Be sure to check with the organizers of each 5K to verify what age groups are allowed to participate. Once you find the one, train together and have fun!