This National Nutrition Month is a great time to educate your kids on the importance of good nutrition. After all, most of our dietary habits are learned in childhood — and since parents control what their children eat, it's your responsibility to start your kids off on the right foot.
But any parent who's tried to feed their child fruits, veggies, and leaner meats also knows that enforcing good nutrition can be easier said than done, particularly when the attempt is met with a tantrum or flat-out refusal to try. Here are some TITLE Tips for teaching your children good nutrition — even if they're the pickiest of eaters!
Teaching Children About Good Nutrition
Follow MyPlate Guidelines
Many kids are visual learners, which makes the United States Department of Agriculture's MyPlate the perfect tool to teach your child about good nutrition. This colorful illustration of a plate demonstrates how we should divide our plate for optimal nutrition. According to the USDA, a healthy plate should be composed like so: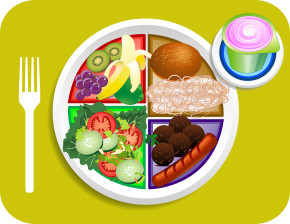 30% grains (at least half of them should be whole, unprocessed grains)
30% vegetables (try carrots, broccoli, snap peas, corn, sweet potatoes, spinach, and green beans)
20% fruits (strawberries, a cup of grapes, apple slices, 2 clementines or cut-up bananas)
20% protein (lean proteins are best)
A small helping of dairy (try a cup of skim or 1% milk, a stick of low-fat string cheese, or low-fat yogurt)
You can encourage your kids to follow these good nutrition guidelines by having them participate as you build their plate at dinner or pack their lunch — it can even be a miniature math lesson or a fun puzzle.
Have a Healthy Taste Test
It's hard to enforce good nutrition when you have a very picky eater. One way to avoid the tears and wasted food is by having a healthy taste test. Purchase a variety of fruits and vegetables — most grocery stores will sell pre-cut samplers that include a diverse spread, or you could even invite some other parents and kids over, asking everyone to bring a specific food for the taste testing. Then, have your kids try a bit of each fruit or veggie, using a pre-made tracking sheet to score each food! At the end of the taste test, you'll know what foods they're willing to eat, and what ones were not favorites — making it easy for you to go grocery shopping while maintaining good nutrition.
Lead By Example: Live Good Nutrition
Children definitely parrot their parents' behavior, especially when it comes to having (or not having) good nutrition. That's why it's crucial for parents to live by example when it comes to dietary habits. You can't expect your kids to follow nutrition guidelines that you aren't following, too — they'll implicitly learn that it's okay to cheat and that good nutrition doesn't matter. If you have snack foods filled with empty calories in your pantry, your kids will notice you sneaking bites, and they'll be inclined to do the same. If you indulge in a soda at the baseball game, they'll ask for sips. If you sit on the sofa all evening, they'll be right next to you. Good nutrition isn't just for your kids — it's for the whole family.
Good Nutrition + TITLE Boxing Club = A Healthy You
Good nutrition is only part of the solution for a healthier lifestyle. Be sure that you're coupling your healthy eating habits with regular exercise, like a Power Hour at your nearby TITLE Boxing Club!
To learn more about good nutrition and our explosive fitness classes, call your local TITLE Boxing Club today.