When the winter chill and the bustle of the holiday season sets in, your family might find it difficult to maintain an active lifestyle. After all, with school concerts, final projects and tests, family gatherings, shopping, gift-wrapping, and treat-making cluttering your schedule, who has the time or the drive to venture out in falling temperatures to exercise?
Still, you shouldn't let the holidays or winter in general make your lifestyle altogether sedentary. Even if it's snowy or cooler than you're accustomed too, there are winter activities you can enjoy with your whole family to maintain your fitness throughout the season.
Winter Activities to Enjoy With Your Family
Romp in the Snow
Who says outdoor winter activities are for ages 10 and under? The first snowfall isn't just a chance for the children to enjoy themselves. Be a kid again and join in for sledding, fort-building, and a good-old fashioned snowball fight. All of these winter activities will give you a little cardio workout, whether you're climbing up a big hill while sledding or running as you dodge snowballs. Show your kids that exercise can be fun — take them out for winter activities in the snow!
Ice Skating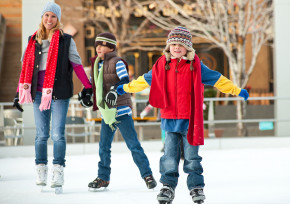 The next of our winter activities to enjoy with your family? Ice skating. Depending on where you live, there may be a commercial or natural ice skating rink near you. Search online or ask around to find a local rink, then take your kids and lace up. Depending on your weight, you can lose 350-500 calories per hour of light ice skating, making it one of the best winter activities that combines weight loss and fun.
Walking Tour of Christmas Lights
Winter activities don't have to be packed with intense cardio — a nice walk will also do the trick. Is there a nearby neighborhood famed for its awesome holiday displays? A walking light tour is one of the best free winter activities. Grab your family and walk (or drive, if necessary) over to the area, then take a walking tour of the Christmas lights on display. Your kids will love seeing the houses all lit up, and you'll all get in a little exercise.
Caroling
Winter activities like caroling can also inject a little fitness into your routine. Create a route through your neighborhood and serenade multiple houses in one night, or stretch out your caroling cardio by visiting one house a night over a few weeks as you take a 30-minute walk each evening.
Visit Your Local Zoo
It might seem strange to put a zoo visit in a winter activities list, but hear us out: not only will you get in some exercise as you walk around the grounds, but you'll also get the chance to educate your kiddos on topics like hibernation, animals' seasonal habits, climates and habitats, and more. Plus, your zoo should be less crowded in the winter, and admission might be lower!
What winter activities keep your family active during the cooler season? Share the winter activities you love in the comments below!