Here's some news you may not expect: football can have adverse effects on your health. Now, we aren't talking about playing football. We're talking about watching football as a fan!
Researchers investigated the effects of football wins and losses on avid fans. They learned that when fans' teams lost, they consoled themselves with junk food. That doesn't sound too surprising, does it?
We know that when people are feeling down, they tend to reach for comfort foods. A defeat can bring on negative feelings and prompt poor eating habits. If personal defeats make us crave junk food, why do sports fans reach for the chicken wings when their team loses? When we look at football fans, we learn that they take on their team's success as their own. That means that a loss for your team feels like a personal defeat.
Football fans, listen up. You don't have to worry about sabotaging your diet every time your team loses this season. Instead, learn the facts and prepare yourself for the games. If you start watching with the right attitude, you can avoid a binge eating fest after a disappointing game.
Tailgating Temptations
As any football fan on a diet knows, tailgates and watch parties can be a difficult to navigate. Temptations like BBQ, nachos, chips and dips, candy, alcohol, and soda are all around. Be sure to eat and drink in moderation as you cheer on your favorite team.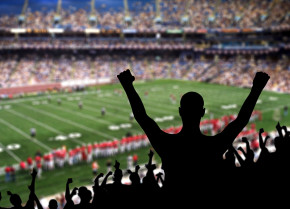 Mood Swings
Many fans may experience mood swings after their favorite team loses a game. Anger, frustration, and sadness are common emotions for avid fans to deal with after a loss. These emotions can be detrimental to your relationships with your family, friends, and coworkers, leading to isolation and conflict.
Emotional Eating
Negative emotions will fade with time (especially if the team wins in their next match-up), but the negative health effects can be lasting. According to one study, 16% of fans of losing teams  turned to comfort foods high in saturated fat and sugars to help cope with their team's loss. Adding these foods to an already unhealthy tailgating diet can have a terrible impact on your overall health.
Negative Coping Habits
Others may resort to drinking alcohol and smoking as a way of cooling off from the stress of losing a football match. Consuming excess alcohol can lead to weight gain and unhealthy habits. Football fans should monitor their alcohol and drug intake before, during, and after a football game to make sure that habits are not getting out of hand.
Combat Football Losses and Weight Gain with TITLE Boxing Club
Playing football can be a great physical activity–but being a fan can be bad for your health when your team loses! Be sure to keep an eye on what you're eating and drinking after your team's loss. Find the TITLE Boxing Club near you to work off post-defeat aggression and tailgating calories.