Usually, Valentine's Day dates are associated with sit-down dinners and a romantic movie, capped off with decadent desserts. This year, TITLE Boxing Club challenges you to step outside of the box when planning your for February 14. If you and your date both love to be active, then our active date ideas will be right up your alley!
Active Date Ideas for Valentine's Day
Want to plan an active date for this year's day of love? Here are our suggestions — each includes the calories burned per person (based on a starting weight of 160 pounds).
Ice or Roller Skating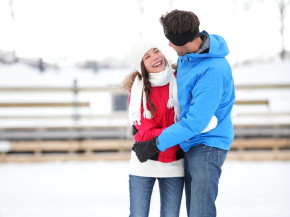 This active date idea was practically made for Valentine's Day: after all, it basically forces you to hold hands with your date! Depending on where you live, you might be able to find an open ice skating rink near you. If not, skating at your local roller rink is a great active date alternative — couple's skating as the music plays might transport you both back to your younger days spent circling around the rink.
Active Date Stats:
Calories burned (ice skating): 511
Calories burned (roller skating): 504
Rock Climbing
If you've ever seen an episode of a dating reality TV show, you'll know that rock climbing is often an active date of choice because it is fraught with metaphors about love — taking the leap, going the distance, making the climb, etc. As cheesy as they may sound, these metaphors aren't without merit — rock climbing as a couple can help build trust, and when you reach the top you'll have a shared experience that no one else can hope to replicate. Plus, the views you'll see up there make the perfect setting for a romantic kiss!
Depending on where you live, you can either seek instructors to help you navigate an outdoor rock climbing area or find an indoor rock climbing course. Either way, you'll bond with your partner as you tackle the climb.
Active Date Stats:
Calories burned: 838
Play Tennis
A high-energy game of tennis is perfect for an active Valentine's Day date — after all, scoring involves the word "love!" If it's still chilly where you are, search for an indoor court — if not, enjoy the open air! Play a game against each other to keep it intimate and amp up the flirty competition, or go for a couple's match if you have favorite double date partners. Since you'll both be on the same side, you will run for the ball a little less, so the calories burned for doubles do clock in lower.
Active Date Stats:
Calories burned (singles): 609
Calories burned (doubles): 381
Try a TITLE Power Hour
Ready to really amp up your Valentine's Day with an active date? Grab your partner and head to a Power Hour boxing or kickboxing class at your local TITLE Boxing Club! Whether you're seasoned TITLE members or newbies getting your First Shot Free, you'll love taking your date to our high-energy, high-intensity group fitness classes. And after that first active date, your love interest can also be your accountability partner.
Active Date Stats:
Calories burned: up to 1,000