Running, for some, is the best part of the day. For others, running is a chore or a task to be avoided completely. Whether you're an avid runner or are just thinking about running, there is no doubt that this is a great time of year for running. The fall season brings relief from the summer heat and beautiful foliage for outdoor runs.
Why Fall is Perfect for Running
Running outdoors in the summer can be enjoyable, but the heat and humidity can be hard on your body. If you aren't used to exercising in the heat, a run will be difficult. There is a major risk of dehydration and injury when you run in the heat. Training and preparing yourself for exercise in extreme heat is possible. It does take time and dedication. If you're new to running, the fall season might be a better time to hit the road for a run.
Fall brings cooler temperatures. It's easier to focus on a good run when the temperature is not extremely high. You can take in some gorgeous sights during the fall season. Enjoying them as you run makes the experience even better.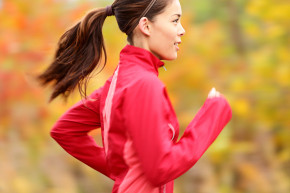 Keep a Running Log
Maintain a record of your progress. A running log will help you track your performance and learn more about your habits. The log should include:
the distance covered every day
time
weather condition
location
health conditions that day
As you update this record each time you jog or run, you'll form a valuable tool. This information can motivate you to reach your goals and show you how certain factors affect your run.
Make Tangible Goals
Forming specific goals will help you see the progress you've made by running. Runners of all ages and skill levels can form realistic goals. Tangible goals challenge you to work harder and smarter. Reach for your goals and reward yourself when you succeed. Whether your goal is to run a 5K in under 30 minutes or to be able to complete a marathon in the next 6 months, you have the power to achieve that goal.
What do you love most about working out in the fall? Do you balance your Power Hours with runs? Let us know your routines in the comments and join the discussion on TITLE Boxing Club's Facebook page.