We've pointed out before that one hour is less than 5% of your day! It's hard to make excuses for exercising when you still have 95% of your day after a good workout!
But what about the other 23 hours of the day? Assuming you're fitting in a healthy 8 hours of sleep, you still have 15 hours. That's 15 opportunities to get a little more flexible, more toned or a bit stronger.Why not put a little fitness into every hour of your day?
An Exercise for Every Hour
6 a.m.- 7 a.m.
Get your morning stretch on before you start the day. Keep it simple by stretching up and to the side while seated and while standing. Move your neck and shoulders slowly to release the tension as you stretch them. Lay on your back and tuck knees close to your chest. Then, let them roll to one side while you look to the other side. Switch sides and feel the stretch in your back.
7 a.m. – 8 a.m.
While you're brushing your teeth, squeeze in an exercise for balance or flexibility. You can do squats or work on your balance by balancing on one leg and bringing the free leg in front of you, to the side, and behind you.
8 a.m. – 9 a.m.
If you're commuting, it's hard to squeeze in any exercise in the car (or bus,) but you can do more stretches to get ready for work. Focus on stretching your calves, ankles, wrists and hands.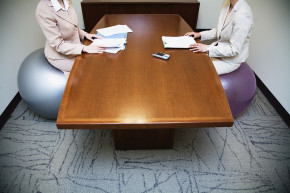 9 a.m. – 10 a.m.
Move your chair aside and sit on an exercise ball for one hour. This is enough time to get your abs working as you balance at your desk.
10 a.m. – 11 a.m.
Sit at your chair again and start some toning exercises under the desk. Sit tall with both feet on the floor. Raise one leg until it is level with your hip. Hold for ten seconds and lower. Complete 15 reps and switch legs.
11 a.m. – 12
Do you have to go to a meeting? Take the stairs or the long route. Try this when going to the bathroom, kitchen, or to speak with a coworker.
12 – 1 p.m.
When it's time for lunch, you have options. If you can't walk to your lunch destination, try taking a walk with coworkers after your meal.
1 p.m. – 2 p.m.
Close your office door and do a few sets of jumping jacks to keep your energy up.
2 p.m. – 3 p.m.
When the afternoon slump hits, stand up, stretch and walk to the coffee pot or water fountain.
3 p.m. – 4 p.m.
While on a phone call or listening to a webinar, try standing behind your chair and working on your calves. Rest your left foot behind the right ankle. Raise up on the toes of your right foot, hold for about 30 seconds, and repeat before switching feet.
4 p.m. – 5 p.m.
During a conference call, tone and strengthen arms by first trying to lift the table with hands under the surface. Then, rest hands on top of the table and push down until your arms are tired.
5 p.m. – 6 p.m.
Take one last lap around the office to check on projects with coworkers, go to the bathroom and stop by the kitchen.
6 p.m. – 7 p.m.
Time for a workout! One of your hours is reserved for a solid workout, whether you're hitting it hard at TITLE Boxing Club or hitting the pavement for a run.
7 p.m. – 8 p.m.
Working around the house can help you burn some calories. Set aside some time to vacuum, dust or sweep — focusing on getting the job done fast and well.
8 p.m. – 9 p.m.
Do as many crunches as you can during commercial breaks of your favorite show.
9 p.m. – 10 p.m.
Try a short yoga routine before bed to relax your muscles and tone your core.