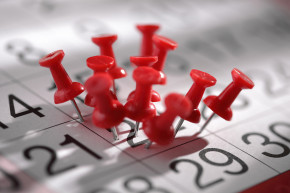 "I'm too busy to workout."
"An hour long workout? I can't fit that into my schedule!"
"I just have too many things on my to-do list. There's no way I can get a workout in today…or tomorrow."
I hear these things often. Most of us have convinced ourselves that we don't have time for anything else. We don't have time to relax, we don't have time to eat right and we definitely don't have time to work out.
I understand that we're busy — but I also believe that time management makes all the difference in the world. There are plenty of things that I spend time on that don't need to happen. There are certainly things that I can do more efficiently.
Let's dispel the idea that we don't have time for a healthy life
Anyone can make time for a workout. If I can change a few of my routine habits, I can clear a one hour window for a workout.
One hour is less than 5% of your day
Making a few adjustments can clear up an entire hour. It will not only make you more productive, but it will also give you a chance to work out. You can burn up to 1,000 calories in that one hour at TITLE Boxing Club. It's a win-win situation.
Ways to clear an hour
1. Set an earlier alarm – Waking up earlier — even 30 minutes — helps people start the day on the right foot. Pick one or two simple tasks to complete in the morning. Maybe you'll take a quick run or read the paper. You can cross things off your list before your work day has even begun. Waking up earlier helps you focus and wake up so you're ready to tackle the rest of the day.
2. Consolidate errands – Three trips to the grocery store in one week are unnecessary. Make your grocery and errand list before your work week begins. Decide when you'll run errands. Stopping at the grocery store once for the whole week can save you so much time.
3. Schedule things right after work – Be strategic with your schedule. Scheduling a dinner date with a friend? Meet up right after work. If you leave an odd 45 minutes between work and dinner, you'll be twiddling your thumbs until its time for dinner. Try to eliminate these awkward gaps from your schedule.
This list is just a start. Follow the Power Hour blog for more time saving tips. With all your extra time, you can fit in a great power hour boxing or kickboxing session!