Treadmills, free weights, ellipticals, BOSU balls, jump ropes and exercise balls– the list of indoor fitness equipment goes on and on. Indoor fitness activities are the tools that keep many people exercising. For some people, working out indoors is the only way they know how.
For those of us that frequently head out the door decked in sweats and our trusty tennis shoes, the thought of getting sweaty inside just doesn't make much sense. The great outdoors is wide open for all types of exercise and activity.
Whether you're an outdoor fitness enthusiast or an indoor exercise devotee, you can probably agree that fall is a season to be reckoned with in regards to scenery. The leaves turn rather quickly, and we're left a small window of time to enjoy the changing colors and mild temperatures.
Being active outside at this time of the year is priceless. Hiking in the fall is not only a beautiful experience, but it is a great addition to your fitne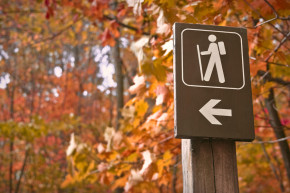 ss routine.
Go on a hike this Fall to boost your regular fitness routine
Schedule a few hikes around your regular power hours at your TITLE Boxing Club this month. Here's why fall hikes are an awesome way to enhance your existing exercise habits:
1. Breathe in the fresh air for a change of pace.
2. Enjoy the changing colors while they leaves are still turning. Hiking stimulates and sharpens the physical senses.
3. Venture into nature for a solo workout — leave the crowded streets behind as you work up a sweat and have some quality "me time."
4. Hiking is cheap — if you have solid hiking shoes, you have everything you need!
5. There are no lines — you don't have to wait for the treadmill to open up or rush to get to a fitness class on time. Just go at your own pace and hike as long as you like.
6. Winter is coming. Soon enough, you may have little opportunity to exercise outside. Take advantage of the weather by spending time outdoors as much as you can. You'll be craving the milder weather in a few months.