Since 2002, March has been celebrated as Multiple Sclerosis Awareness Month. Worldwide, 2.3 million people suffer from MS, an autoimmune disease that impacts the brain and spinal cord to cause loss of muscle control, vision problems, lack of balance, and loss of sensation.
Here are the basics on multiple sclerosis — and why you should make an MS walk a part of your Power Hour exercise plan!
Celebrate Multiple Sclerosis Awareness Month
What Causes Multiple Sclerosis?
Multiple sclerosis occurs when the immune system mistakes the brain and spinal cord as foreign substances, targeting these tissues for attack. When the immune system causes inflammation in the central nervous system, the myelin protecting nerve fibers can be damaged, along with the oligodendrocytes that produce myelin and sometimes even the nerve fiber. This inflammation can cause symptoms that last for weeks or months, or even permanently.
How Does Multiple Sclerosis Affect People?
Since brain and spinal cord tissues are crucial parts of the central nervous system, multiple sclerosis affects muscle movements, including talking and walking.
There are several symptoms of MS caused by central nervous system inflammation, such as: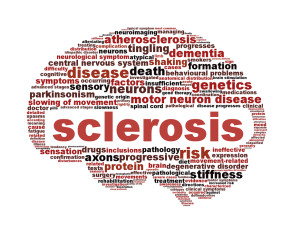 Physical imbalance or impaired coordination
Slurred or impaired speech
Vision problems or blindness
Memory problems or difficulty concentrating
Fatigue
Numbness or paralysis
Tremors
Often times, symptoms will manifest during a flare-up but might not be apparent to outsiders.
How Can I Help Those With Multiple Sclerosis?
Those coping with multiple sclerosis need patience and understanding from friends, family, and acquaintances, as inflammation could crop up at any time and inhibit their mobility or ability to participate in social or professional events.
In addition, you can help people with multiple sclerosis by raising awareness and funds to help support the fight against MS. We recommend finding a Walk MS or bike MS event near you. You'll contribute to multiple sclerosis awareness and fundraising, plus help your overall fitness by engaging in purposeful cardio sessions. At TITLE Boxing Club, we love cardio for a cause!
Have you ever participated in a Walk MS or Bike MS event? Do you know anyone impacted by multiple sclerosis? Share your story in the comments!