It's pretty common knowledge that a sedentary lifestyle can contribute to a higher risk for heart disease. That's why TITLE Boxing Club wants to help you get your heart pumping this American Heart month!
The following heart health exercises not only reduce your risk of developing heart disease, but also provide countless cardiovascular benefits, including:
Improving circulation and your body's oxygen use
Strengthening your heart and overall cardiovascular system
Lowering your blood pressure levels
Helping you reach and maintain a healthy weight, which promotes heart health
Ready to add some heart health exercises to your Power Hour of fitness? Let's get started!
Heart Health Exercises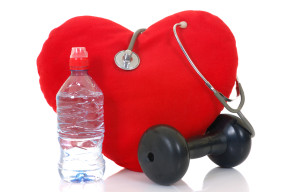 The American Heart Association recommends 2.5 hours of moderate exercise or 1.25 hours of vigorous exercise per week in order to promote heart health. You can split this time into 30 minute daily chunks to make it manageable, and combine both moderate and vigorous exercise in one workout to maximize results.
Here are some heart health exercises we suggest:
Swimming
One great heart health exercise we recommend is lane swimming. As an aerobic exercise, lap swimming will strengthen your heart and help your body best use oxygen. If you keep up with this heart health exercise consistently, you'll notice a decreases heart rate and blood pressure as well. Hit up your favorite indoor pool and swim 8 – 12 laps of the pool for each stroke you prefer. Be sure to switch up your strokes on a regular basis to maximize your heart health benefits.
Cycling
Studies have shown that a regular cycling schedule of 19 miles per week can decrease your risk of coronary heart disease by 50%. Why such dramatic heart health benefits? When you cycle, you engage the muscle groups in your legs and they elevate your heart rate. This leads to improved cardiovascular fitness while burning calories.
Weight Training
Experts agree that weight training is an important heart health exercise, especially for those diagnosed with heart disease. Weight training will build your muscle mass, help you burn fat, and promote overall heart health. Be sure to consider your current body weight and consult your doctor when planning your weight training routine. To fully boost heart health, be sure to increase your lifting difficulty and incorporate slower, more challenging movements.
Run in Intervals
Running intervals is another great aerobic heart health exercise. Start slow with 4 bursts of 10 second runs completed at maximum intensity per every workout. Once you're comfortable with 4, increase your intervals each week of workouts until you make it to 10. You'll see the heart health benefits in no time!
Kickboxing or Boxing Power Hours at TITLE Boxing Club
The high-intensity boxing or kickboxing Power Hours at your local TITLE Boxing Club are the ideal heart health exercises. Combining high-intensity cardio and MMA techniques with strength training and toning exercises, our group fitness classes will get your blood pumping, which improves your arteries' elasticity and boosts heart health. The trainers at TITLE understand how to create workouts that generate maximum impact, including heart health benefits.
Learn more about TITLE's commitment to heart health and join your Power Hour today — find your local TITLE Boxing Club now!