Exercising outdoors during the winter season can improve performance, raise your metabolism and increase your calorie burn. One of the biggest perks is breaking up the monotony of the gym.
Exercising outdoors in the winter can also be challenging.
How do you keep up an active routine despite the colder temperatures?
If you prepare, cold weather training can be a great opportunity to improve your fitness and to have fun.
The cold weather of the winter season offers many training possibilities. With good planning and the right clothing, exercising outdoors in the winter is a success!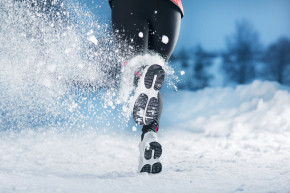 Winter warm ups
Effective warm ups are always important, but exercising outdoors in the winter makes them even more important.
Warm up before doing any physical activity outside this winter. To avoid pulled muscles and other injuries, take time stretching and raising your heartbeat to prepare your body.
Head inside
Staying active outside is great, but it isn't always an option. For those days that you just can't get a workout in outdoors, have a variety of options. Hit up a one hour boxing class or try a workout video at home. Having several options keeps things interesting so you don't get burned out after your fifth treadmill run of the week.
Take advantage of the elements
Snow and ice might interrupt your daily routine occasionally, but instead of complaining about the elements, why not take advantage of them?
Many of us may not be lucky enough to live near the ski slopes, but we can still find opportunities for physical activity outside this winter. Snowboarding, snowshoeing, ice skating and sledding are a few fun ways to take advantage of the weather.
Dress for the occasion
You have to protect yourself any time you're active outside this season. Dress in layers to stay warm and avoid overheating. Don't forget to keep your feet, hands and ears warm. A hat or headband works well to keep your head warm. The gear you use during the fall won't cut it.