It's the second week of January and we've all settled in. The kids are back to school. We've finally adjusted to writing 2014 instead of 2013. The new year's resolutions have been made, and no doubt at least one of them includes some personal fitness twist, whether the goal is to lower your BMI, lose weight for your high school reunion, or simply exercise more.
Now it's time to get serious about keeping those personal fitness resolutions. When it comes to achieving yearlong goals, starting off on the right foot in January is key. If you get a good momentum going, it will carry you through the midyear doldrums and motivate you to succeed. You have an hour in your day that you can dedicate to your personal fitness — and we know just what you should do to maximize that hour.
To help you track your personal fitness progress and fulfill this year's resolution, we're kicking off twelve months of personal fitness, beginning with January. Follow our tips for ringing in the new you with a power hour of exercise!
January: The First Month of Personal Fitness
Cardio
Adding some cardio to your routine will take your personal fitness to the next level. If you haven't exercised in a while, you can ease in with 30 minutes of walking swiftly or jogging lightly. Be sure to stretch before and after. You can also integrate cardio into your everyday routine by making simple changes: try standing up at work, walking rather than driving, or forgoing the elevator in favor of the stairs.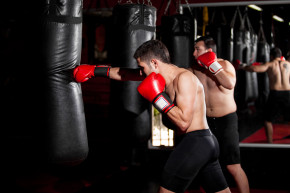 Another option to inject cardio into your personal fitness: join a boxing or kickboxing Power Hour group fitness class at your local TITLE Boxing Club. Our high-intensity workouts are perfect for beginners and seasoned pros alike, as you can push yourself as hard as you please in our no-judgment community. Our workouts blend cardio, toning, boxing, and kickboxing to create high-intensity classes where you can burn up to 1,000 calories* in one hour.
Strength Training
Your personal fitness regimen should also include core and balance exercises at least twice a week. These exercises will help with your posture and form, which improve your overall wellness. TITLE's group fitness classes always incorporate core and toning exercise, plus strength training on our equipment to increase your personal fitness — and for even more tailored help, you can even pursue personal training through TITLE.
Nutrition
Personal fitness isn't all about exercise — it also involves a nutritious diet. We recommend creating a food and drink log to help track what you put in your body and when. Your food diary will help you identify and rectify the problem areas in your diet. You can use your BMI to calculate how many calories your body needs to run, and how many you need to cut from your diet to promote healthy weight loss. In addition to our personal trainers who can offer in-person, customized nutrition tips, TITLE has tons of resources to help you improve your personal fitness, including:
Start Your Personal Fitness Journey
Take that extra hour of your day and make something of it. At TITLE Boxing Club, you can kick your year of personal fitness off right! Find your TITLE Boxing Club today and start the group fitness classes that will revolutionize your exercise.