The work day can be long and monotonous. Break up the day by fitting a power hour in during your lunch break. Seem impossible to have a workout during your lunch break? We'll show you a few tips for making it work.
You don't have to resort to lifting weights at your desk! Plan a lunch break workout!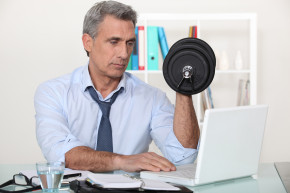 Power Hour Lunch Break Workout
Plan ahead
If you know that a power hour is going on at your local TITLE Boxing Club at 1pm this Thursday, start planning early in the week. Block off the hour on your calendar, set a reminder and commit to it. You may need to do a bit extra work in the early part of the week. If you can commit 20 minutes of extra work each day from Monday to Wednesday, you'll be more than prepared to take a power hour lunch break workout on Thursday.
Be efficient
When your power hour day arrives, start the day with motivation on the brain. Get in the right mindset in the morning by stretching when you wake up. Loosen up and prepare yourself for the day. When you get to work, stay focused on the task at hand. Wrap up loose ends before you head out at lunch time. You'll be able to HIT IT HARD when you aren't distracted by an unfinished project laying on your desk.
Get your gear
Grab your workout gear, towel and water bottle the night before your power hour lunch break workout. Throw everything you might need into your gym bag, and put the bag in your car before bed to make sure you don't leave it on your bedroom floor. Bring a bottle of ice water to work with you and sip on it all morning. Pack a granola bar or greek yogurt for your morning snack.
Have you ever visited a Power Hour on your lunch break? Find your local TITLE Boxing Club and check the schedule for an afternoon time that will work for you! Don't think you can swing a lunch break workout? No sweat! Visit your club in the evening or early morning!