We know that a healthy breakfast is viewed by many as the most important meal of the day. Even though we know it should be a priority, many of us skip the morning meal or rush through a small bite to eat. There are a number of reasons why some people aren't in the habit of eating breakfast in the morning. Some of these reasons include trying to limit calories or not feeling hungry. We'll make our case for having a healthy breakfast every day — and we'll show you why it's important for the kids, too.
Children and Healthy Breakfast
Most parents have busy schedules and require a healthy breakfast in order to keep energized throughout the day. Just as parents need a nutritious meal to stay energized, kids need a healthy breakfast even more.
Kids are constantly growing and developing. When they skip a healthy breakfast, they aren't receiving the necessary fuel for their growing minds and bodies.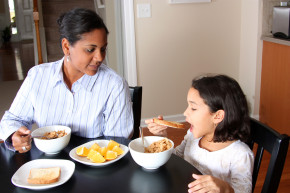 Skipping Breakfast: Risky Business
If you and your family occasionally skip breakfast so as to save on time, get a few extra minutes of sleep or cut down on calories, you need to remember that eating a wholesome healthy breakfast will most likely save you on time and from health problems to. When we eat a healthy breakfast, we recharge our mind and body and we become more efficient in almost all that we do.
Breaking the fast to shed some pounds
Skipping breakfast repeatedly won't give you lasting weight loss success. According to research reported on cnn.com, consistently skipping breakfast strains your body and contributes to other health conditions. Eating regularly helps us maintain blood lipids. The morning meal is especially important for protection against heart disease.
Stay tuned to the TITLE Boxing Club Blog for healthy breakfast ideas for your whole family! Check us out on Facebook in the meantime and join us as we share fitness motivation and news!