Exercise is one of the top priorities that parents should instill in their children. Embracing exercise when children are young may help them form healthy habits for the rest of their lives.
Signing the kids up for sports teams and classes is one of the common ways to encourage your children to be active. If you have young children, you may be wondering if, and when, you should enroll them in a sport.
There are plenty of benefits to organized sports, but many parents have reservations. Here are some pros and cons of signing your kids up for sports teams. Stay tuned to TITLE Boxing Club on Facebook and join the discussion on all things family fitness!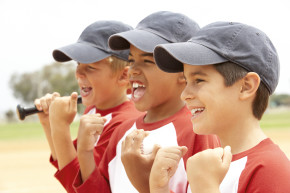 Advantages of kids sports
Regular exercise
Regular exercise helps the kids be physically fit and learn to appreciate the importance of physical activities at an impressionable age. This also helps the kid to be active rather than living a sedentary lifestyle that could lead to serious health problems such as diabetes and obesity.
The power of teamwork
Playing together, learning to follow the rules and respecting a game that is being played helps children to work together as a team. Learning to work as a part of a team is a valuable life skill that can be carried through your child's whole life.
Stress relief
Organized sports teams and classes will encourage your children to deal with stress. The physical activity is a natural stress reliever and the sense of belonging and responsibility to a team can encourage kids to make better decisions and stay stress-free.
Nurture talent
Exposing your children to several different games and activities can help them find the things they enjoy and the areas of their natural talents. Encouraging practice and dedication can help your kids enjoy physical activity and uncover their talents.
Disadvantages of kids sports
Signing up a child for sports also has its cons. That is why it's important to know when your child should play, where and with whom.
Too much competition
Competition for children at young ages can be harmful. Certain environments may stress the children or make them feel an intense amount of pressure. Children gradually are more prepared as they grow.
Injury and health risks
Children can get physically injured while practicing or playing in games. Dehydration is a major problem for children of all ages.
Burnout
Some kids are not ready for several days of practice and competition. The risk of burning your kids out on sports is high if you start them young and continue to enroll them in multiple sports programs each year.