The dinner and a movie date might be a classic, but it's time for an upgrade. Going to the movies and having a full course meal can not only damage your bank account, but it can also leave you and your date in a rut. You can only enjoy so many dinner dates before the process gets boring!
Switching up the dating game is a great way to add variety to your relationship. Whether you are dating around or are treating your spouse to dates, there's no denying that a change in the routine can spice things up.
We're taking the idea of new date ideas to the next level by keeping the date moving. Adding physical activity to your dates will boost the mood, add a friendly dose of competition and encourage you to learn more about each other.
Active Dates at TITLE Boxing Club
Take your date up a notch at TITLE Boxing Club. Our group power hour classes are the perfect way to get moving together. Find your local TITLE Boxing Club and ask about bringing your date to the next boxing or kickboxing class.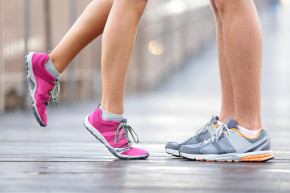 Here are some more ctive date ideas to try.
Rock climbing
Some of the best date ideas are the ones where you try something new together. Find somewhere nearby to try rock climbing and bring your date for a fun mid-day date.
Play a Sport
Competing with or against your date will boost your mood and bring out your competitive side — this lets you see your partner in a new light. Playing sports together also lets you teach each other new skills. Maybe you can help her with her 3-pointers and she can help you on the tennis court. It doesn't matter what you pick — as long as you come to play with a good attitude.
Be Tourists
Be a vacationer in your own city. Ask around for new and interesting attractions. Maybe you've never actually spent time at the places that make your city unique. Visit the zoo or take a trip to the theme park. Look for new cuisines and take a walking tour through the unique neighborhoods in your town.
Take a Hike
Trek into the great unknown on your next date. Taking a hike allows you to enjoy nature and explore together. You can decide how challenging your hike will be.