Sure, daylight-saving time grants us a blessed extra hour of sleep, but with it comes a hefty price: early darkness. By the time we get off work or finish our daily tasks, the sun is already down, and the instinct to stay inside in our pajamas firmly takes hold.
This can be an issue when it comes to fitness and weight loss. Exercise you'd regularly do in the evening gets put off. Sure, you could wake up earlier to pack in some AM fitness, but what if you're just not an early bird?
Though the urge to burrow in is strong, there are some great after dark outdoor workouts you should consider to keep your fitness a priority this fall and winter. Follow our tips for outdoor workouts to stay safe as you exercise outside!
After Dark Outdoor Workouts
Biking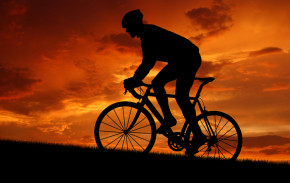 Biking is one of the best calorie-burning outdoor workouts in fall. You can grab a friend or your family and hit a local park, or just cycle around your neighborhood. To stay safe in low-light situations, be sure to bike with the traffic, wear reflective gear, avoid wearing dark clothing, and install a bicycle light so that motorists can clearly see you. Be sure to stay on sidewalks or designated bike lanes and follow all traffic laws. If you follow these rules, your outdoor workouts will be safe and fulfilling!
Running
Running in the dark can be very fun and relaxing if you follow our safety tips for outdoor workouts! Pick out a safe, well-lit public area for your outdoor workouts. A city park or your own neighborhood are great candidates for running. Be sure to wear a crisp white or brightly-colored shirt or your reflective gear and always run against traffic so that drivers can easily spot you — and you can react to cars as well. Stick to the sidewalks while running, and avoid crossing major roads to keep your outdoor workouts safe.
Hit the Trails
You might enjoy hiking, running, or biking on a local trail during twilight, as nature is gorgeous in the hours before and just after sunset — especially in autumn. These areas are ideal for low-light outdoor workouts, as motorists are prohibited there. If you're heading out on a trail that you're not familiar with, be sure to grab a map and a friend so that you can navigate — and let a third party who is not hitting the trail know where you will be and when you should be back. You should also bring a flashlight, a first aid kit, and some pepper spray to any trailblazing outdoor workouts, just in case you run into any unfavorable critters or trip over rocks or tree roots.
Court Workouts
A well-lit basketball, volleyball, or tennis court is the perfect site for these outdoor workouts! You can complete high-intensity interval training to burn tons of calories. Start with a set of 5 sprints spanning the length of the court. Then complete 30 lateral hops, jumping your way to the full court line and then back. Last, do 6 side shuffles across the court and back. These outdoor workouts should only take 15 minutes but will have a big impact on your weight loss!
Once it gets too cold for outdoor workouts, your fitness regimen doesn't have to end. Be sure to continue your evening workouts elsewhere, like the TITLE Boxing Club near you!
We'd love to hear how you stay fit in the fall and winter. If you have any favorite outdoor workouts, be sure to share them in the comments!