It's summertime, and it seems like everybody is trying to lose weight. Being healthy doesn't mean you can't enjoy food. As any healthy individual knows, the key to weight loss is making nutritious food decisions. Summer is a time for tailgating, and with Fourth of July just days away, there's no reason you can't get a piece of the action. TITLE Boxing Club is dedicated to keeping you fit, so we've created a list of ways you can celebrate the holiday the healthy way.
Fresh Fruit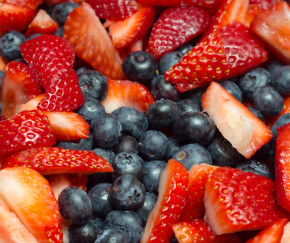 With lemonade and fruit stands posted on every other corner, it's the time of the year when fruit takes center stage. This Fourth of July, fruit should brighten your plate as much as fireworks light up the sky.
Strawberries – if you're planning on spending time at the pool or beach this summer, make sure to load up on vitamin C. This awesome antioxidant boosts your immune system and provides you with protection from the sun, too. This holiday, put your patriotism on your plate with some lush, red strawberries. This vitamin C-rich fruit will keep your skin protected under the sun, and did we mention they taste great, too?
Blueberries – in honor of this red-white-and-blue holiday, treat yourself to a big bowl of blueberries. Blueberries are a health enthusiast's dream. So, just how awesome are these superfruits? "A cup of blueberries supply you with a 24% RDV (Recommended Daily Value) for vitamin C and 36% RDV of vitamin K. In addition to loading up on your dietary nutrition, blueberries contain a whole list of phytochemicals like anthocyanin, flavonols, resveratrols and tannins that can protect you from inflammation, heart disease, Alzheimer's and cancer," reported a health article. Wow, now that's impressive!
Fruitsicles – what's better than a mixed bowl of fruit? A fruitsicle, of course! This Fourth of July, something cold and sweet is just what the doctor ordered. We stumbled accross the greatest holiday recipe on Eating Well's website. With just strawberries, blueberries, and limeade, you can enjoy this wholesome 45-calorie treat.
This Independence Day, make healthy fruit the centerpiece of your party plate. When it comes to these nutrient-rich fruits, you just can't go wrong. So, if you're trying to stay healthy this holiday, just eat — fruit, that is.
Looking for more ways to get in shape? Look no further than TITLE Boxing Club. Visit our website to find a location near you.