For the first time since 1990, when the Food and Drug Administration (FDA) began requiring nutrition labels on prepared and packaged foods, the FDA is considering an overhaul to the food labels we all know. Why the change after decades? They're hoping the new food labels will help people make more informed decisions about the foods they eat.
People have grown increasingly reliant on nutrition labels, with 57% of adults 68+ and 42% of working-age adults (29 – 68) referencing food labels most or all the time as they grocery shop. Are you among the shoppers who uses nutrition labels to make smart decisions? Here's how the new food labels will improve your shopping process — and aid in weight loss.
New Food Labels to Debut This Year
How Are Food Labels Changing?
The new food labels will place a greater emphasis on the total calories per serving, the amount of added sugars, and the daily values of nutrients including Vitamin D, potassium, iron, calcium, dietary fiber, and sodium.
In addition to these changes, the updated nutrition labels will debt new serving size requirements so that packages of food that are usually consumed in one sitting — a 20 oz. drink, for example, or a pint of ice cream — will have updated serving sizes so that you can easily see what you're eating when you consume the whole container. This change will affect 17% of all prepared and packaged products.
How Will These Changes Help Me Lose Weight?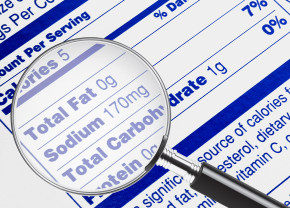 Research has shown that people who consult food labels when shopping and snacking tend to eat healthier. The updated nutrition labels should thus help people lose weight. For example:
More emphasis will be placed on calories. Rather than listing the calories from fat, the new food labels will state the total calories per serving, since it's the type of fat consumed that matters more than calories from fat.
You'll be able to gauge your consumption of added sugars. Currently, food labels denote the total sugars, including naturally-occurring ones. Studies have shown that Americans eat more sugar than they know, and this change should help address this problem so that people can stay within the American Heart Association's recommended levels: 150 calories of added sugar per day for men, and 100 for women. Since consuming excess sugars leads to weight gain, this change will help improve overall health.
Updated daily values will help with overall nutrition. Nutrients with updated daily values include dietary fiber, Vitamin D (which Americans generally do not consume enough of), and sodium. In particular, the sodium limit is decreasing from 2400 mg to 2300 mg. Plus, the nutrition labels will be required to state the levels of Vitamin D, potassium, iron, and calcium, whereas before this was voluntary.
When Will Changes to Food Labels Be Implemented?
After announcing the new nutrition labels in late February, the FDA opened a 90-day period for comments so that nutritional experts and members of the public can provide feedback to the suggested changes. After this period ends in May, the FDA will review all suggestions, make any adjustments, and announce their final decision. They hope to complete the entire process within the year. After the final say on the new nutrition labels, food manufacturers will have 2 years to fully implement any changes.
Pair Your Nutrition With a TITLE Workout
Nutrition is key to weight loss — but exercise is the other part of the healthy equation. A hard-hitting boxing or kickboxing class at your local TITLE Boxing Club is the perfect complement to a well-balanced diet.