The holidays can be a tough time to maintain your weight loss. Food-filled gatherings with family and friends abound, along with sugar cookie baking, gingerbread house making, Grandma's delicious fudge, and countless other diet-breaking temptations. And we all know the familiar feeling when temperatures drop and the unhealthy comfort food cravings kick in.
One easy way to avoid gaining too much weight as you indulge in the holidays and cope with the winter chill? Prepare more filling foods to feast upon. When you make the following holiday or winter menu substitutions using the filling foods that follow, you'll get full sooner and stop chowing down.
Filling Foods for Holiday Weight Loss
Instead of Mashed Potatoes: Try Baked Potatoes
Baked potatoes are among the most filling foods — a study found that the tubers kept people full the longest and made them eat less two hours after consumption. Full of nutrients, vitamins, and fiber, these filling foods provide you energy and stomach satisfaction. Just be sure to add toppings sparingly, as butter, sour cream, cheese, and bacon add little nutritional value. For an even more filling experience, leave the skins on.
Instead of Chili & Cornbread or Biscuits: Try Broth-Based Bean Soups
With their high water content, broth-based bean soups are among the most filling low-calorie foods. High in fiber and resistant starches that slow sugar release, bean soups will keep you satiated for a long time, as the fiber and water tell your stomach receptors that you're no longer hungry. Rather than garnishing your soup with cornbread, crackers, or biscuits, simply opt for a heftier helping and really let those filling foods do the trick.
Instead of Fruit Cobblers: Try Greek Yogurt & Fruit Parfaits
Bubbling cobblers may be tempting, but substitute them with more filling foods like a Greek yogurt and fresh fruit parfait and you'll reap health benefits while avoiding empty calories. Dairy proteins are proven to increase satiation, reduce eating, and level blood sugars — and Greek yogurt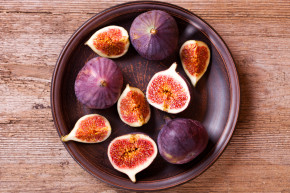 contains double the protein and less sugar than its counterpart, making it one of the most nutritionally ideal filling foods. Spread your casserole with Greek yogurt and then top it with freshly-sliced apples or figs, two other filling foods. Apples boast digestion-slowing, satiating pectin, while dense, sweet figs are high-fiber sugar-slowers that prevent sugar shock.
Instead of Flavored Popcorn, Trail Mix, or Puppy Chow: Try Popcorn & Spices
Those tins of gourmet caramel and cheddar popcorn, bags of candy-filled, sodium-packed trail mix, and batches of chocolate-y puppy chow or muddy buddies will undoubtedly tempt you this holiday season and all winter long. Opt for air-popped popcorn instead — it's healthier but still easy to grab as a snack when on the go. Like other filling foods, popcorn packs a low-calorie, stomach-fooling punch, as it fills your belly faster and makes you feel full. Up its filling and flavor factor by adding a little spice: try cinnamon and nutmeg, a pinch of salt and cumin or chili powder, or a bit of italian seasoning with garlic salt. Studies show that popcorn with a little added spice is more satiating. For filling foods to rival puppy chow, add a handful of chocolate chips and chopped peanuts or peanut butter chips while the popcorn is still hot.
Instead of Pancakes: Try Oatmeal Cakes & Eggs
If pancakes are a Christmas morning tradition in your household, try replacing them with more filling foods. At the very least, cut back each person's pancake consumption and add a side of eggs to the meal. A Saint Louis University study revealed that people who consume eggs in the AM eat 330 fewer calories over the course of the day compared to those who chose a bagel for breakfast. Why are eggs such filling foods? As a complete protein, they have all nine essential amino acids that trigger appetite-suppressing hormones in your stomach.
You can increase your intake of healthy filling foods by substituting oatmeal pancakes for the traditional buttermilk variety. Packed with fiber and iron, oatmeal pancakes will fill you up faster. Add some chopped nuts to your batter — these filling foods also boast protein, fiber, and insulin-stabilizing unsaturated fats.
Instead of Eggnog: Try a Smoothie
If you reach for eggnog throughout the winter season, reconsider: its high in calories, fat, and cholesterol. Try making yourself a smoothie, another one of our filling foods (or drinks, depending on how you look at it). Because smoothies are blended full of air, they make you feel full and reduce consumption at your next meal, per Penn State University research. Avoid sugary, calorie-packed syrups or fruit juices and use ice or fat-free milk instead. You can even incorporate some of the other filling foods, like Greek yogurt or apples, or use strawberries (high in water content) or bananas (full of resistant starch just like beans, another of our filling foods).
At TITLE Boxing Club, we're about total body wellness, and we know that a balanced diet — along with exercise like our Power Hour boxing or kickboxing classes — is key to your overall health. Make smart decisions this holiday season and all winter long — cut the empty calories and instead reach for these filling foods!
Know any other filling foods or healthy holiday recipes involving these ingredients? Share your filling foods in the comments below!