Adventurous people seem to make the most of everything. They know how to turn an exercise session into a fitness adventure. Seeing breathtaking scenery, meeting new friends and exploring are just a few benefits of an outdoor fitness adventure!
One great thing about workouts outside is that you get the best out of both worlds. Not only is an outdoor fitness adventure great for your body, but it's fun as well. it is also a great way to bond with your family and friends!
You don't have to travel to another city or book an expensive trip to have an exciting workout. You can start a fitness adventure in your own backyard if you want!
More people are stepping outside of the gym and taking their fitness to new levels outside. Below are three great ways to enjoy an outdoor fitness adventure in your own hometown!
Mountain Biking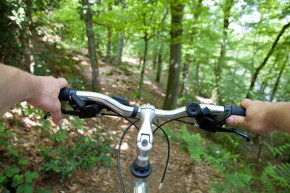 Using a mountain bike for fitness training is a fun way to fit in a workout and explore at the same time. It guarantees an extreme workout that people of any fitness level can try.
Leg Workout
Mountain biking helps develop long, lean and toned legs.
Stamina
Mountain biking gives you a fierce stamina workout. The more you practice, the more you will build stamina and endurance.
Losing weight
Hopping on the bike is a great way to lose weight. The rough course of the mountain creates obstacles that aren't common to normal biking. You'll see the results of this cardio workout.
Hiking
The treadmill may let you walk inside, but it sure does not have the same atmosphere as a hike! Hiking lets you enjoy the fresh air, take in the scenery and fit in a tough workout.
Mental Health
Due to the nature of hiking, it promotes mental health and easily relieves stress.
Physical Health
You can tailor your hiking experience to your age and health status. It is a great way to have a fun experience with friends and family as well.
Kayaking
Kayaking works your whole body. You'll get a core and arm workout as you control the kayak and continue the paddling motion. Check out your local parks and lakes for kayak rentals to try out this adventure.
Challenging
Kayaking challenges every muscle in your body. You could spend hours in the water enjoying your adventure without realizing that you are working out! That's what's great about kayaking; you enjoy the ride and challenge the body to perform harder.
Take a break from the treadmill and gear up for an outdoor fitness adventure! Adding a hiking trip or mountain biking adventure to your power hour routine will amp up your entire fitness plan!