You can't escape Halloween without candy. In fact, you can hardly go anywhere during the month of October without passing candy. Whether its the candy bowl at the office, the big bulk bags at the store or the candy corn sprinkled everywhere, we know the candy is a temptation.
Your sweet tooth might be in high gear this month — that doesn't mean you have to finish off that entire bag of candy pumpkins.
Kick your Halloween candy cravings!
To curb the candy craving, you need to fill up on healthy Halloween treats, avoid parties when you're hungry and stay busy with friends and family.
Stock up on healthy halloween treats
If you're feeling full from nutritious meals and snacks, you're less likely to go after the candy. Stock up on healthy Halloween treats that your whole family will enjoy. Fruits and veggies are the best choice. Make them kid friendly by adding a Halloween spin. Carrots, yellow peppers and cauliflower can be arranged into a candy corn shape. Mix up a low-fat veggie dip with greek yogurt and spices. Draw jack o'lantern faces on oranges and let the kids play before they eat.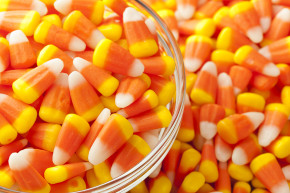 Don't go out hungry
If you're heading out to a Halloween party or a fall family get-together, think twice about leaving hungry. If you leave hungry, you're much more likely to dive into the candy bowl too many times or munch on one too many appetizers.
Instead, fill up on healthy halloween treats before you leave the house. Pack a few simple snacks so you don't get hungry en route from one event to the next.
Involve your family and friends
Trying to stay healthy this month can be difficult — don't try it alone. Encourage your family to join you this month. If you're all in it together, you'll be more likely to eat fewer sweet treats. Instead of staying home, invite a friend to TITLE Boxing Club with you for a power hour. Your first shot is always free — it is the perfect time to try something with a friend and avoid the candy bowls. Do remember to treat yourself sometimes! Staying on an extremely strict diet around Halloween might send you over the edge and have you bingeing on candy later!
Organize Halloween events
Halloween events offer an opportunity to have fun while burning some calories. Head to a charity walk or run, visit the corn maze or pick apples. Any activity will work — just make sure that you get a group together to enjoy the autumn weather and stay active.