Parties should have warning signs. When you're trying to manage your weight and follow a nutritious diet, a party is a danger zone. Parties are almost always linked to an abundance of sugary, high fat, high calorie foods.
If you're throwing a party or heading to one, whip up one of these healthy snacks. There are plenty of great alternatives to the traditional party snacks. Try these swaps for your next celebration.
Healthy Snacks for Celebrations
Party Staple: Chips and Dip
Instead of the traditional fat loaded chips and dip, offer healthy snacks such as vegetable sticks and avocado dip. Try carrots, celery and cucumber. Simply blend lime juice and mashed avocado to prepare the avocado dip. You can also use a ready made fat reduced dip.
Alternatively, you can serve fresh guacamole with baked tortilla chips. Homemade guacamole is full of nutrients. Add onion, tomato and herbs to the mix for a filling and nutritious dip.
Party Staple: Pizza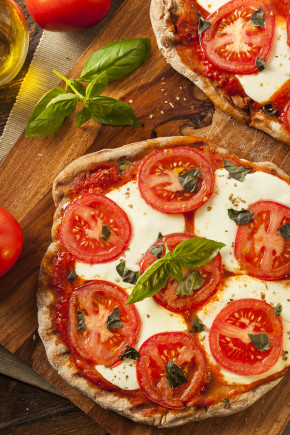 Freshly baked pizzas with vegetables are great healthy snacks. Create a masterpiece with your favorite veggies. Try spinach, mushrooms, tomatoes and peppers. Add fresh herbs for a burst of flavor. You could even let guests make their own veggie pizzas and toss them on the grill.
Party Staple: Sweets
Cookies, cake, ice cream or candy take the stage at most parties. Add some naturally sweet options to your menu to keep guests from filling up on birthday cake. With their natural goodness, sweetness and color, fresh fruits offer a great swap for your parties.
Try these super easy fresh fruit snacks ideas:
Chocolate dipped strawberries
Strawberry smoothie pops
Fresh fruit salad
Watermelon
Party Staple: Cupcakes
As opposed to serving the traditional sugar loaded cakes during your birthday party, serve banana cupcakes or carrot cupcakes. You may decorate these with low fat cream cheese icing.
Party Staple: Soda
Skip the soda cans at your next party. Serve ice water, iced tea and fruit juices. You can chop fresh fruit for flavored water. Try serving italian sodas by mixing fruit syrups with club soda. There are plenty of refreshing drinks that aren't loaded with sugar.
Healthy Snacks for a Healthy Lifestyle
Offering healthy snacks at your parties will keep your loved ones smiling and healthy. Switching out your party staples for healthy snacks is easier when you stay focused on your goal to have a healthy lifestyle. What are your favorite party snacks?