Chances are you're one of the 1/3 of people that make a new year's resolution to get fit in 2014, or the 15% that have resolved to start a new exercise routine to promote healthy weight loss. But have you made a concrete plan to achieve your goals? With 2013 in the past, it's time to start ringing in the new you with TITLE Boxing Club!
Fitness fads are sure to come and go in 2014 just as they have in the past. TITLE's incredible growth over the past few years proves that it's a program for healthy weight loss that will last. Here's why your nearest TITLE Boxing Club is the best place to begin and actually keep this year's weight loss resolution.
Ready to Ring in the New You? Achieving Healthy Weight Loss With TITLE Boxing Club
Working Out in a Community
As we've said in the past, to succeed in your new year's resolution of healthy weight loss, you shouldn't be in it alone. Unlike gyms or exercise centers that encourage anonymity and offer little in the way of a support system, TITLE Boxing Clubs boast a tight-knit, like-minded community of people striving to better themselves. With shared goals of attaining healthy weight loss, building confidence, and achieving mental clarity, the people who work out at TITLE aren't mindless drones trudging on treadmills with their headphones on. You'll form relationships with the trainers and your fellow class members at TITLE — and they'll help motivate you as you pursue healthy weight loss throughout the year! We all need cheerleaders to encourage, comfort, applaud, and motivate us as we work toward healthy weight loss and overall wellness, and you'll find these people at TITLE.
Start at Any Level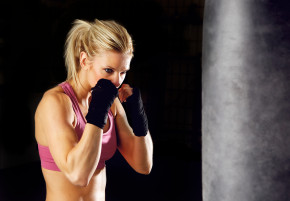 Those who resolve to pursue healthy weight loss can start at any fitness level. If you haven't worked out in a while, you might worry that TITLE's high-intensity hit-free boxing or group kickboxing classes will be too much for you to take on in the new year. This isn't true. Our Power Hours are designed to help you achieve healthy weight loss by burning up to 1,000 calories* in an hour — but you can choose how intensely you work out or how hard you push yourself. TITLE Boxing Club is a judgment-free zone where anyone from beginners to seasoned pros are welcome. Though you may enter TITLE with little or outdated exercise experience, as you work toward achieving your resolution of healthy weight loss with the warm-up, cardio, toning, boxing, and kickboxing workouts rolled into our Power Hour, you'll continuously be able to push yourself harder, strengthen your core, build muscle and endurance, and achieve more.
One-on-One Personal Training
Sometimes, healthy weight loss and fitness resolutions can only be achieved with a specialized workout and one-on-one attention. With personal training from TITLE Boxing Club, you'll work closely with an MMA, boxing, or kickboxing expert who will develop your tailor-made blueprint to ensure healthy weight loss. They'll consider your resolution and specific goals, your weight loss history, and your current fitness level when planning the right mix of cardio, boxing, kickboxing, weightlifting, core, and toning exercises for your training sessions. And when your personal training commences and you go toe-to-toe with your professional trainer, you'll push past plateaus, gain strength and endurance, and boost your own confidence as you press toward healthy weight loss. TITLE's personal trainers echo the camaraderie of our clubs' group workout classes, providing additional motivation and guidance on an individual level. The support of a TITLE personal trainer could prove essential as you start to lose determination mid-year – they'll help you press on and achieve your resolution by year's end!
Start Your Road to Healthy Weight Loss Today!
If you're ready to ring in the new you, it's time to call your local TITLE Boxing Club and find your Power Hour. We can't wait to watch you transform through healthy weight loss!