We've all been there. With January nearing an end, our resolutions are feeling a little stale, especially the weight loss goals. After weeks (or longer) of staying true to our diets, we get the urge to grab a cheat food: something salty or sweet, something that's decidedly not on the list of healthy, "approved" foods.
Yesterday we asked some of our TITLE members to share their favorite diet cheat food. Today, we're presenting some healthier alternatives and recipes for the same cheat food. Follow our healthy cheat food suggestions and you'll quickly see that dieting doesn't have to equal dull, unappetizing meals!
TITLE Tips: Healthy Cheat Food
Beer
Beer was one of the most-mentioned when it comes to TITLE members' favorite cheat food. It's hard to resist the pull of a brew, especially with the Super Bowl just around the corner. The good news for beer-lovers: if you're maintaining your diet and exercise, drinking low-calorie beers in moderation won't have a detrimental effect. There are several light and low-cal beers on the market, with light versions containing up to 100 calories per 12 oz. serving and the low-cals ranging from 55-99 calories per 12 oz. This is a far cry from the 338 calories in premium lagers.
Worried a light or low-calorie beer won't satisfy you enough? You could always stick to one 12 oz. glass of Guinness. You might think that such a rich stout would be a terrible cheat food, but in reality a serving contains just 126 calories — and it will leave you feeling full after you drink it, preventing you from overindulging in lighter beers.
Potato Chips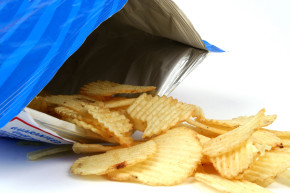 Chances are, if you're craving potato chips as your diet cheat food, it's really the salty, crisp crunch you're after — not the high trans fat or empty calories. Luckily, there are some readily-available (or easy to make) alternatives to replace potato chips, including taro chips (a root vegetable similar to the potato, with less fat, more fiber, and lots of vitamin E), sweet potato chips (full of vitamin A and the minerals manganese, and they taste great flavored with cinnamon!), kale chips (full of vitamins A and C, and salty, too!), and soy chips (33% fewer calories and much less fat than regular potato chips).
All of these alternatives can probably be found at your local health store or the supermarket's health food section, or try your hand with them at home by baking them up. You can even make your own baked potato chips if the cheat food craving is too strong — that way, you'll be able to control the amount of salt and oil.
Gourmet Coffee
It can be hard to get by without your morning pick-me-up, which is why coffee (especially more gourmet options like cappuccinos, lattes, and macchiatos) often top the list of diet cheat food. You can certainly order low-fat options from your favorite coffee shop — ask for low-fat milk and no whipped cream — or you can whip up similar drinks at home using low-fat, low-calorie, sugar-free ingredients, including light vanilla soy milk. For a more healthy spin, make your own breakfast smoothie with 10 oz. of your favorite coffee, brewed and chilled, 1 tsp coconut oil, 6 oz of low-fat Greek yogurt, and 1/2 tsp stevia or honey. You'll feel like you're having a cheat food, but in reality it's a low-cal, protein-packed treat!
Pizza
What cheat food list would be complete without pizza? Greasy, gooey, cheesy — it tastes so good but doesn't do much for our bodies nutritionally. You'll feel a lot less guilty (and more healthy) if you put down the phone and make your own version of this cheat food instead. Try a thin wheat crust topped with fresh tomato sauce (full of immune-boosting antioxidants), grilled chicken (full of proteins, vitamins, & minerals), red peppers (a great source of vitamins C, B6, & magnesium, plus antioxidants & metabolism-boosters), raw spinach (vitamins C & E, antioxidants, & fiber), and a sprinkling of feta cheese (low-calorie but flavorful, so you can get away with using less). Or top some foccacia bread with roasted tomatoes and parsley (also rich in antioxidants). If you're craving this cheat food on the go, pita with red pepper hummus or salsa can also serve as a great substitute.
Chocolate
Those of us with a sweet tooth can attest that chocolate is a major cheat food craving during a diet. Try satiating your sweet tooth with nature's candy: fruit such as oranges, strawberries, blueberries, grapes, bananas, or cantalope, all great, low-calorie sources of vitamins. To satisfy the specific chocolate craving, add a teaspoon or two of cocoa powder to your yogurt, cottage cheese, or morning smoothie. You'll get the flavor plus the benefits of all those healthy foods.
For an even more sinful-feeling treat (without the dietary sins), melt 2 squares of dark chocolate and drizzle them over half a banana, then pop it into the freezer. You'll get the chocolate flavor without eating too much, plus reap the benefits of eating a banana: low in fat, high in vitamins and minerals, plus packed with fiber to keep you satisfied for longer.
If you have to give in to this cheat food, grab a few pieces of pure dark chocolate, which is packed with antioxidants to combat high blood pressure and cholesterol, aging, and heart disease. Just be sure to limit yourself — with any cheat food, moderation is key.
Give in to a Cheat Food? Let TITLE Keep You on Track
Succumbing to a cheat food every now and then won't hurt your weight loss goals as long as you're staying active. At TITLE Boxing Club, you'll find fun, high-energy group fitness classes designed to help you burn 1,000 calories*! Find your local TITLE today and get started.
If you try out any of our cheat food alternatives, let us know what you think in the comments — and happy weight loss, all!