When it comes to living healthily, autumn can prove difficult for a lot of women. Dropping temperatures and an earlier sunset can discourage outdoor activities, and seasonal treats like pumpkin spice lattes and pecan pie woo dieters at every coffee shop or family gathering. It's important to focus on your fall fitness so that you don't fall victim to autumn weight gain!
Need a little help staying in shape as we move into November? Here are five fall fitness tips to follow.
Fall Fitness Tips
Fall Fitness Tip #1: Eat in moderation.
This a fitness tip to follow year-round, but it is especially important during autumn when there are so many high-calorie temptations: Halloween candy, pumpkin desserts, stuffing at Thanksgiving, and so on. Allow yourself to enjoy the foods, but limit yourself to modest portions. That means no seconds!
Fall Fitness Tip #2: Plan ahead.
Another fall fitness tip to prevent yourself from tipping the scales? Plan ahead before heading out to fall gatherings. Always eat a small meal beforehand so that you don't arrive at the party starving and over-indulge in the smorgasboard.
This fall fitness tip also includes planning ahead to schedule your exercise. Depending on your work schedule and family activities, you might need to carve out pockets of time to work out, especially with the sun setting earlier. Rather than saying "I'll work out sometime this week," commit to actually picking your days and times. Block out your schedule and actually follow through with your plan!
Fall Fitness Tip #3: Find a marathon.
There are a lot of marathons in the fall, and the crisp autumn air is perfect for running! This fall fitness tip will help you stay healthy because you'll have to train for the marathon before running in it. Setting a concrete goal like finishing a marathon will ensure that you actually work out each week. Bonus fall fitness tip: be sure to sign up with a friend or family member who will hold you accountable–you can train together or even share an exercise log online.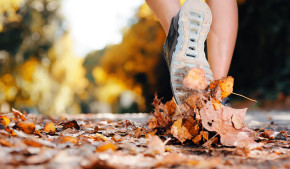 Need some help finding the right marathon for you? Here are some fun marathons to help you carry out this fall fitness tip:
Head to Littleton, Colorado and grab a pumpkin from Chatfield's Pumpkin Patch, then enjoy your 2-mile run through forests and fields in this fun-filled run. It's on Saturday, October 26!
Put on your freakiest threads and  bring your kiddos this Sunday, October 27: the Hallows Eve 5K is a family-friendly run that combines a marathon, costume contest, and trick-or-treating! Join the fun in Lowell, Massachusetts.
Dodge obstacles and zombies intent on eating your brains in this challenging, frightening 5K in St. Louis. Guard your flags–they represent your life! Then enjoy the apocalyptic after party.
Fall Fitness Tip #4:  Try a workout DVD.
If you find the outdoors too chilly in autumn, this fall fitness tip is for you. Move your exercise inside with a workout DVD! There are programs for every fitness level and interest, from yoga and pilates to zumba and step aerobics. A DVD will be especially useful if your schedule is too busy to accommodate going to the gym–just pop it in when you have some time to spare.
Fall Fitness Tip #5: Find a TITLE Boxing Club.
We provide high-intensity calorie-burning workouts year-round, but autumn is a great time to check out the TITLE Boxing Club near you. This fall fitness tip will not only help you avoid the cold air, but will make you more accountable for following through with your workout plans. You can sign up for kickboxing and boxing classes, or even get your own personal trainer to plan your workouts and motivate you!
Do you have any fall fitness tips to share? Let us know in the comments!