The experience of motherhood is a wonderful and enjoyable journey. However, the nine month preparation period can be a little overwhelming. It might leave you wondering exactly what is safe to do during pregnancy.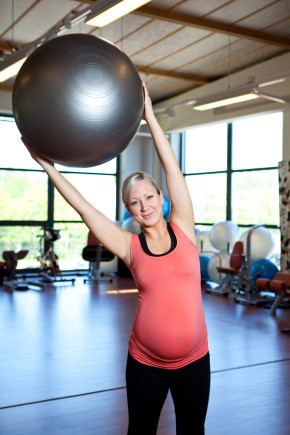 A good number of these concerns come into mind when thinking about exercise. Being thoughtful about your safety and the baby's safety when considering exercise during pregnancy is very important. While being careful of what exercises you do is a big factor, it is not meant to discourage you from exercising all together.
Pregnancy and Exercise: Safety First
Choosing to exercise during pregnancy is a very healthy decision that will lead to a healthier pregnancy overall. So long as you choose safe and healthy exercises, your overall pregnancy and post labor recovery process can benefit.
Benefits of Exercise During Pregnancy
Exercising during pregnancy offers improved cardiovascular fitness for the mother. Keeping good cardiovascular fitness can help with stress that the labor process may bring. Regular exercise can improve blood flow to the placenta, possibly helping aid in healthy development of the fetus. An exercise plan can help mothers-to-be shed excess weight after the baby's birth.
What's Best for You
The decision to exercise during pregnancy depends on the mother. If the mother is already fairly active and has a preset routine, the best thing to do would adjust the current routine to better fit the new developments to the body.
If the mother used to going on long walks before getting pregnant, just adjust the time and distance of the walk to minimize any strain the body may receive. Breathing and stretching regularly, three to five times a day, is ideal for keeping good circulation and can actually elevate the mood of the mother to be.
Signing up for a prenatal yoga class is one of the best exercise decisions that a pregnant woman can make. Even though exercises can be healthy, it should be well known that certain exercises are not good. Any exercise that contracts the abdominal muscles should be avoided. You should also avoid extremely active sports and activities during pregnancy.
Exercise and Pregnancy: Post Pregnancy
Choosing to exercise during pregnancy can be a healthy decision so long as you do it moderately. Choosing the right plan depends on you and what your doctor recommends. Provided you stay away from any abdominal building workouts or highly active sport activities, your pregnancy can be greatly aided by the simple and basic exercises that we've explained.
Exercise post-pregnancy needs to be adjusted for a while, too. As you recover, you will be able to slowly add more intense workouts. The trainers at TITLE Boxing Club are always happy to help you go at your own pace when you're ready post-pregnancy! Follow TITLE Boxing Club on Facebook for daily motivation