Let's face it. While tasty to the point of seeming addictive, football food isn't exactly diet-friendly. Beer, wings, an endless spread of chips and dips — none of these foods are considered nutritional superstars. Still, they're bound to make an appearance at your superbowl party. This means there's more at stake than the bets or your sanity if your team loses this Sunday — your health is also on the line.
Sure, you can do your best to have a healthy superbowl party by following our tips for avoiding a binge. Or you can overindulge and then resume your healthy habits following the big game. But another great option is to make your football foods better for you by trying out our healthy superbowl recipes!
Healthy Superbowl Recipes
Buffalo Wings
While a serving of traditional boneless buffalo wings contains thousands of calories, these low-calorie, low-carb, low-fat, low-sodium wings are the MVP of healthy superbowl recipes, clocking in at just over 250 calories per serving. How does it cut the calories so dramatically? Rather than the deep-fryer, they're prepared in just 2 tablespoons of canola oil. Subbing whole-wheat flour and cornmeal also helps. Here's how to make the first of our healthy superbowl recipes:
Combine 3 tbsp nonfat buttermilk with 1 tbsp hot sauce and 1 tbsp distilled white vinegar, whisking in a large bowl.
Add 2 pounds of boneless white chicken tenders, tossing to coat fully. Move the mixture to the fridge and marinate for 10 minutes – 1 hour. Be sure to stir occasionally.
In a separate shallow dish, combine 6 tbsp whole-wheat flour and 6 tbsp cornmeal.
In a small bowl, whisk together 1 tbsp hot sauce and 1 tbsp vinegar and set aside.
Take your marinated chicken tenders out of the fridge and roll in the flour and cornmeal mixture, evenly coating. Lightly sprinkle your chicken with 1/2 tsp cayenne pepper.
In a large nonstick skillet over medium-high heat, heat 1 tbsp canola oil. Then add half the chicken, cooking until golden brown (3-4 minutes per side). Transfer cooked chicken to a serving platter, then add 1 tbsp oil and repeat process with the remaining chicken.
Drizzle your reserved hot sauce and vinegar mixture over the cooked chicken. Serve with low-fat blue cheese dip, celery sticks, and carrot sticks.
Mexican Layer Dip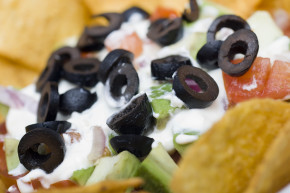 While most regular superbowl dips come prepackaged with hard-to-pronounce ingredients, this mexican layer dip uses fresh vegetables, making it one of our favorite healthy superbowl recipes. The black beans, fresh veggies, and salsa give the dip healthy fibers (20% of the needed daily intake), while reduced-fat sour cream helps cut calories. That doesn't mean the dip is devoid of taste, though: thanks to the healthy ingredients elsewhere, you can use regular cheese to keep the dish flavorful. At just 145 calories per serving, your guests will be impressed with the second of our healthy superbowl recipes. We recommend serving the dip with baked tortilla chips, taro chips, or soy chips, a few more healthy superbowl recipes.
In a medium bowl, combine one 16 oz. can of nonfat refried beans, one 15 oz. can of black beans, drained and rinsed, 4 sliced scallions, 1/2 cup salsa (jarred or fresh), 1/2 tsp cumin, 1/2 tsp chili powder, and 1/4 cup chopped jalapeño slices.
Transfer the mixture to a shallow, 2 quart microwave-safe dish. Sprinkle the top with 1 cup shredded Monterey jack or cheddar cheese.
Heat the mixture in the microwave on high until the beans are hot and the cheese is melted — about 3 – 5 minutes will do.
Spread 1/2 cup reduced-fat sour cream over the bean mixture.
Chop 1 medium tomato and 1 medium avocado. Scatter these veggies — along with 1/4 cup sliced black olives — over your dip. Serve with baked tortilla chips, taro chips, or soy chips.
Spinach Dip
Another superbowl stable, regular spinach dip packs some perks — the leafy greens are packed with vitamins A, C, E, K, and B-6, plus antioxidants, folates, riboflavin, potassium, and magnesium. But the cheese adds fat and calories, diminishing the healthiness of the dish. As far as healthy superbowl recipes go, this spinach dip is quite easy — just substitute some healthier ingredients and you get a slimmer dip that's just as tasty. This low-calorie, low-carb, low-cholesterol recipe yields 2 1/2 cups of dip, with just 54 calories in each 1/4 cup serving.
Cook 6 oz. of spinach according to directions on the package.
Peel one small shallot and place in food processor with one 5 oz. can of water chestnuts, drained. Pulse the mixture until ingredients are coarsely chopped.
Add 1/2 cup of reduced-fat cream cheese, 1/2 cup low-fat cottage cheese, 1/4 cup plain nonfat yogurt, 1 tbsp lemon juice, 1/2 tsp salt, and freshly ground pepper to taste, pulsing until combined.
Add cooked spinach and 2 tbsp chopped fresh chives. Pulse until the mixture is incorporated.
You can serve the dip cold if desired, or place in an oven-safe dish and cook at 350 degrees for 20 minutes.