We all know the feeling after eating the Thanksgiving meal. It's an odd combination of satisfaction, guilt and indulgence. There's a little bit of you that wants to go back in time and turn down that second helping of mashed potatoes — but most of you is full and happy.
To all of you who do take the second (and third) helpings of all your favorite dishes — don't stress!
You can recover from your holiday binge and feel great in just a few days. Check out our simple guide for a post-Thanksgiving health and fitness plan.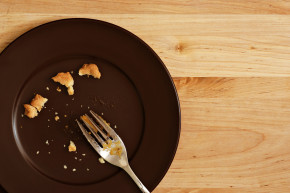 Steps for Staying Healthy After Thanksgiving
1. Clean up the Fridge
It's too easy to binge on green bean casserole when it's the only thing you can see when you open the fridge. Instead of pulling the first container you can and heading to the couch to watch the game, plan ahead.
Right after your Thanksgiving meal, box up your leftovers and freeze most of them. Leftover turkey is great to save for soup later, and casseroles can be popped out of the freezer and reheated. For the food you'll keep in the fridge, organize it into individual clear containers.
Don't let guests leave without taking desserts and treats. Try to leave only a small amount of your holiday sweets at home — where they tempt you morning and night.
2. Fill up on Healthy Choices
Stock up on filling, nutritional foods that are easy to prepare. Go with your family's favorite veggies, fruits and whole grains. Make sure healthy snacks are super easy to grab when people get hungry.
3. Make a Plan
Most people fall into a little slump after Thanksgiving. Since you're on vacation, you don't have your normal routine to keep you focused. Most family events and gatherings revolve around food this weekend, so it's incredibly easy to fall off the fitness wagon and land right on the couch with a whole pie on your lap. Don't let that be you this Thanksgiving — make a plan to stay on track.
Your plan can be as simple or detailed as you want. Just make sure that you have at least one physical activity planned for every day. Here are some ideas to get you started:
take a family bike ride
meet a friend for a hike
challenge your family to a game of flag football
take a walk between Thanksgiving meal and dessert
How will you focus on fitness after Thanksgiving this year?