Today I'm making the case for an earlier bedtime. I'm not talking to the kids. I'm talking to you!
I'm addressing all of you who have to make dinner, clean up the house, fix the faucet, put the kids in bed, mow the lawn and respond to emails. Many of you might argue with me, pointing out that there are not enough hours in the day. "Going to sleep can wait until I'm done with my to-do list," you say.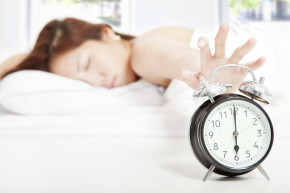 I understand. But, today, I'm going to show why an earlier bedtime is worth it.
#1 Avoid weight gain
We know that sleep is vital to our health. Recent research published in the journal Sleep confirmed that later bedtimes are connected to less sleep, more calories and weight gain.
The study involved 225 people in a lab setting where many factors could be controlled. The group of individuals deprived of sleep consumed more calories during the day and shifted their calorie consumption toward late night.
Researchers are still investigating the exact reasons why little sleep means more weight gain. The control centers of the brain might be weakened due to lack of sleep, making you more likely to give in to that piece of chocolate cake.
Whatever the reason, we can trust the data: Going to sleep later is connected to eating more calories and gaining weight.
#2 Make time to get up and workout
Exercise is good for you no matter what time of day you slip it in. However, there is evidence to show that working out in the morning might be more effective. It can also wake you up and give you a boost of motivation for the day. See how you can become a morning person (hint: an early bedtime is part of the secret!).
To be continued…
I have more arguments for an earlier bedtime! Check out our next blog post to see the rest of my case. Until then, check out TITLE Boxing Club on Facebook for more tips, news and information about classes at your local club.