For some of us, the grocery store has become a necessary evil. Others are excited for the weekly trip to the grocery store. No matter how you feel about this errand, I'm sure you've wondered how to make better decisions as you shop for food.
It is too common that we buy too much food that goes to waste or we arrive home with bags full of junk food. Change your grocery shopping habits to make healthier eating decisions and wiser budget decisions.
You're in a hurry with important things to do- there's no time for healthy meals. Slow down! What you eat is more important than many of the items on your to do list. When you put your health first, you can focus more energy on your daily routine. Here are some tips for navigating the grocery store.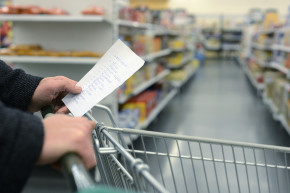 1. If you are hungry when you buy food, you risk emptying your wallet for junk food without realizing it. So, go shopping after a healthy meal.
2. Don't buy too many packaged and processed foods. You'll see the results quickly. Focus on trying simple recipes filled with fresh produce.
3. Don't go shopping once a month. Visit the store at least once a week. This helps you replenish your cabinets with fresh fruits and vegetables regularly. Instead of eating frozen or boxed meals, you'll purchase and use fresh ingredients before they go bad.
4. Go grocery shopping with a plan.  You'll save time when you are prepared. Before you go shopping, take time to make a list and limit yourself to the necessities. Plan your meals and snacks for the entire week before you leave.
5. Check the expiration date. Double check the offers that seem too good to be true. Some of those foods might expire in a few days. If you won't eat 6 yogurt cups in 2 days before they expire, the deal is not worth it.
6. Make simple healthy swaps. Replace your daily staples with healthier alternatives. Swap brown rice for white rice, natural sweeteners for sugar and nuts for chips.
These grocery shopping tips will make your shopping efficient and healthy! What are your favorite tips for getting in and out of the store fast with the right items? Tell us your tips in the comments section below.