Shopping for summer produce is one of my favorite things. I love finding a great deal on locally grown tomatoes or corn. Now that summer is winding down and we look toward fall, I find myself thinking about the fresh produce I can use in this new season.
If you're like me, you need a reminder of the fruits in season. You probably need some inspiration for using the vegetables in season, too. Here is a little lesson in fruits and vegetables in season this fall. Take this as your inspiration and run with it as you make healthy meals with the flavors of autumn!
Vegetables and fruits in season
September
EggplantThe late-season harvest yields an abundance of summer squash, apples, and herbs. During the last days of summer, treat your palate to the best of the late-season harvest. Sample the best September has to offer.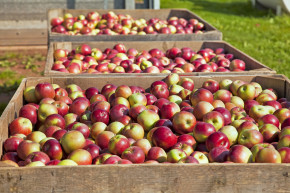 Sweet Peppers
Summer Squash
Apples
Fresh Herbs
Try the vegetables in season:
This grilled eggplant parmesan sandwich is a great alternative to the popular fried eggplant.
October
Taste the crisp goodness of autumn in pomegranates, pears, and more. The October harvest heralds the beginning of a surprisingly bountiful late fall and winter yield. With the blowing leaves and thinning sun come some of our perennial favorites, whose thicker skins and temperaments make them ideal for cool-weather ripening. Taste the crisp goodness of October.
Pears
Winter Squash
Concord Grapes
Pomegranates
Try the fruits in season:
This pear and arugula salad has a delicious mix of autumn-inspired flavors.
November
Try the best-loved treats of the holiday season, from cranberries to sweet potatoes. The chilling winds and nearly bare trees that issue in November remind us that winter is almost here. We look forward to the smells and sounds of crackling wood on the fire, a Thanksgiving dinner with family and friends, and the lace-like dusting of frost that's sure to appear on our windows by month's end. Some of the best-loved treats of the season are readily available fresh fruits and vegetables that are tasty on their own or as a special part of your holiday meal.
Kale
Sweet Potatoes and Yams
Cranberries
Granny Smith Apples
Try the vegetables in season:
This filling quinoa, kale and sweet potato salad packs a punch of nutrition.
What are your favorite ways to serve up the flavors of fall? Tell us in the comments below and be sure to join the discussion on TITLE Boxing Club's Facebook page.