Are boxing gloves needed for punching a heavy bag? The short answer is yes. In addition to hand wraps, boxing gloves are the most important, and required, piece of boxing gear you need when taking a boxing or kickboxing class at TITLE Boxing Club Boston Newbury Street. Boxing gloves absorb much of the impact from punching the heavy bag, helping prevent injury to your hands and wrists. They also help keep your hands in the correct position when throwing your punches allowing you to punch for maximum speed and power. Better boxing form results in a better workout.
TITLE Boxing Club Master Coach, Chris Gerhart, put together his top tips to keep in mind when selecting the perfect pair of boxing gloves for your heavy bag workouts:
1. Functionality – There are many different types of boxing gloves on the market. You want to choose bag gloves or training gloves with a Velcro closure, which we sell at the club. These types of boxing gloves are designed with the puncher's hand protection in mind and they offer foam padding across your knuckles, making them ideal for TITLE Boxing Club Boston Newbury Street classes and personal training sessions utilizing boxing mitts. The Velcro closure allows you to put on and secure your gloves yourself vs. lace-up gloves that require assistance to tie.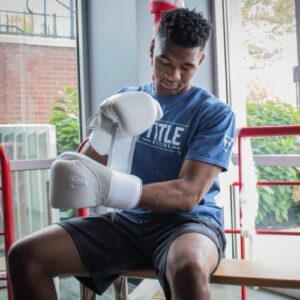 2. Durability – The materials your gloves are made from will impact how long the gloves will last before needing to be replaced. While the most cost-effective may look like the best bang for your buck, you'll end up replacing them frequently. Full genuine leather gloves are the most durable option and can last years depending on how you take care of them. Synthetic leather is the second most durable option. Neoprene or other soft canvas-like material will have the lowest price tag but will also have the shortest lifespan of only a few months.
3. Comfortability – Your wrapped hand should fill up your entire boxing glove. If your hand feels pinched, your thumb feels jammed, and you feel numbness in your fingers, the glove is too small. If your hand is floating inside your glove and you can easily pull your hand out while the Velcro is still secured around your wrist, the glove is too big.
4. Try Them on with Your Hands Wrapped! Shopping for boxing gloves is like shopping for shoes. Many of them appear the same when comparing pictures and prices, but once you put them on you notice the differences in size, shape, texture, and quality. Our performance store at TITLE Boxing Club Boston Newbury Street offers multiple options for you to try on and purchase. Our staff will also check the fit and ensure they're the best option for you.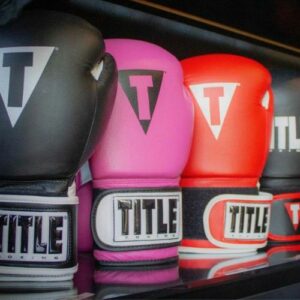 Once you've purchased the perfect pair of boxing gloves for you, book your next TITLE Boxing Club Boston Newbury Street class or try out this 30-Minute Punch & Burn at-home workout from TITLE On Demand.