Apr 1, 2020
5 WAYS TO FIGHT FOR YOUR GOALS IN QUARANTINE
It's time to embrace CHANGE this April.
Friends, we are 90 days into the New Year. The first quarter didn't quite go according to plan. Let's pause and do a little gut check on your goals. Did you do the things (think: New Year resolutions) you said you would in January? Likely no. Then, the globe became under attack from an unknown virus that forced us into our homes, isolation, lost jobs, lost businesses, lost lives, lost opportunities.
So how do we pause and reboot our systems and turn the losses into gains? Currently, we are all at home for the foreseeable future. At least all of April, and possibly even into additional months. How do we make the most of it? By setting firm Q2 goals!
For me, I have a standard goal-setting approach every quarter. Make a list, on paper, that focuses on who you want to be and what you want to achieve in the next three months. The key categories to focus on are your faith/spirituality, fitness, family, finances and future. What a fun project to do with your family, too!
FAITH
No matter your beliefs we all agree on the infinite power of the human spirit. There are videos going viral of remarkable people, acts of kindness and love that bring tears to my eyes. Set your intentions on being light and sending light to everyone you love, every day. Sometimes great faith is as simple as sharing a smile when you don't feel happy. Going above and beyond for someone else. Having faith in our doctors, nurses and front-line crews that are sacrificing their lives for ours. Faith moves mountains. Together the TITLE Family is creating change. The ripple effect and the waves of every jab and cross thrown in the middle of this storm is inspiring, uplifting and encouraging people around you to do the same.
FAMILY
Set goals with your family to spend quality time every day. Instead of going stir crazy and feeling like the walls are closing in on you, find the light in the darkness. Family time is priority over work, school, errands, games and everything else we used to fill our time with. Everyone around the world is spending hours upon hours with their family. What a gift!! Get creative on activities you can do, ride a bike, do a puzzle, take a boxing class. In my family, we set goals that each of us, kids included, want to achieve by the time the quarantine lifts. One of the girls wants to practice golf every day and take the dog on a walk. While the other wants to put on muscle and workout six days a week. My husband and I set health goals for our diet and exercise plan. And every evening over dinner we give updates about how we are doing on our goals and how each of us can help each other grow. One of my all-time favorite quotes is "the quality of your life is determined by the quality of your relationships." How can you set goals to improve relationships, to facetime with family, write cards to loved ones, and share your light with people?!
FITNESS
Our health is our greatest asset in our lives. This virus, the global pandemic, is an attack on our health. Worldwide, people are more aware and in tune with their own health now more than ever before. As a fitness brand, our position is to provide an authentic, transformative full-body workout that unlocks your inner power. We champion your fighting spirit. And we believe now is the time for everyone to embrace this fight, to learn how to throw a punch, and to champion the health of you and your household.
That's easily one of my favorite parts of our brand. Any person benefits from our boxing classes. We have people in wheelchairs, as young as eight years old and as old as 90 in our classes, to expecting mamas, stressed-out college students, overweight or underweight members, special needs, disease-fighters, and the regular Jane all here sweating out their stress. If you're a member using our TITLE On Demand app from home, then you know—THIS TRULY HELPS RIGHT NOW. Fighting back, feeling like you have control, and putting your health on your priority list is absolutely critical. It allows you to inspire your family, friends and any social followers to take a swing at feeling good in the middle of a storm.
Exercise not only changes your body. It changes your attitude, your mind, and your mood. It's time to embrace CHANGE this April. Embrace new beginnings. Your challenge, should you choose to accept, is no matter what you encounter, focus on your health, mind and body. Set goals for your mental health, how many workouts you will commit to every week, and make appointments with yourself. You are so important to this world. You have a special gift to share and you must make a point to embrace you fully. At the end of the day, when you can't control what's happening, challenge yourself to control the way you are responding to what's happening. That's a champion mindset, and that is where the power is!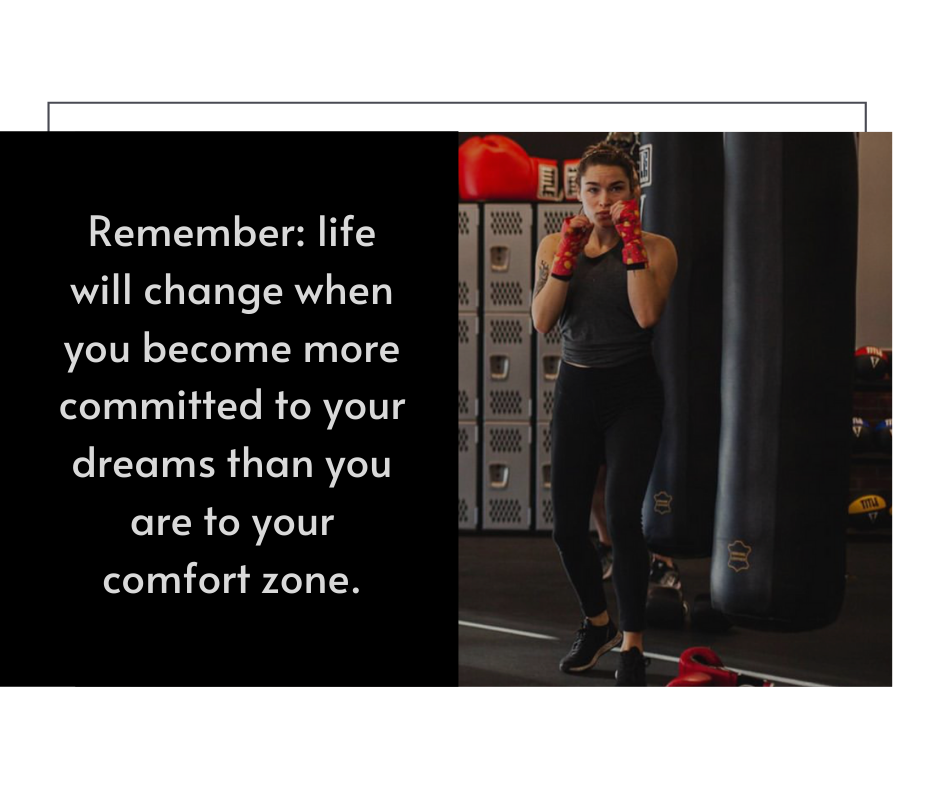 FINANCES
While I have no financial advice to give that's rooted in expertise, I do practice good financial health. Many people and families are hurting due to layoffs, salary cuts, and unemployment.  The importance of having a financial goal for the next 90 days gives you a great challenge to work towards. Can you cut household spending by 30%? Can you stop online shopping? Can you donate items you own to people in need? As Dave Ramsey said, "personal finance is only 20% knowledge and 80% behavior." So, while you are working on your goals for the next 90 days can you create new habits in your faith, fitness, family, and finances? Of course, you can!
FUTURE
Oh, isn't it wonderful to dream about the future!? My husband and I go for walks and talk about the next vacation we will take, we dream about building a house, and allow our minds to think about all the things that inspire us, vs. stress us out. You must be intentional about this though. More and more people are working 12-15 hours a day now that there is no "turning it off" at home and some are pulling long shifts at hospitals and delivery companies. Stress compounds quickly and begins to weigh you down. When dreaming about the future, make a plan to do something wonderful 90 days from now. This pandemic will lift, and when it does, what will you do first? Let your mind dream of goals that are fun, maybe even unrealistic and exciting for the future! Staying home saves lives. Stay home with your family, love one another fiercely and make room for activities that make your hearts come alive! And dream, oh how wonderful it is to dream!
The good news: you can start today and live the rest of your life committed to empowerment, strength, and health.
No matter the storm or circumstances you absolutely have the ability to increase your health, take three boxing classes a week (and one on the weekend!), and change how you feel from the inside out. The good news: you can start today and live the rest of your life committed to empowerment, strength, and health. In six months, you will either be in the same place or a better place, regardless of what is going on in the world around us. The trick is, you have to do the work. You have to commit to focus every day on improving your health, wealth and happiness. It will take time, but you can make it happen. YOU actually are the only one who can make it happen.
Remember: life will change when you become more committed to your dreams than you are to your comfort zone. And, when everyone is out of their comfort zone today, it gives us the opportunity to step into the ring and go toe-to-toe with transformation.
We are in this fight together. Fight with light. Fight with faith. Fight for your family. Fight for your finances. Fight for your future.
We, my friends, are here. Fighting for you day and night. We will get through this. We will rise. And until we see you back in the club, we'll see you online!
Check out our mid-week pep talk on Instagram!
In your corner,
Brooke Budke
Vice President of Marketing