Jan 22, 2018
Four Reasons Boxing Class Isn't as Intimidating as You'd Think
What's the first word that you think of when you want to describe boxing? Some of the words that may come to mind are fun, challenging or empowering. But for someone who has never strapped gloves on and hit the bag before, the narrative could be much different.
They could see boxing, especially in a group setting like a TITLE Boxing Club class, to be intimidating, scary or frightening.
And while those feelings may be justified, we have evidence that it only takes one boxing class at TITLE Boxing Club to reverse those apprehensive feelings.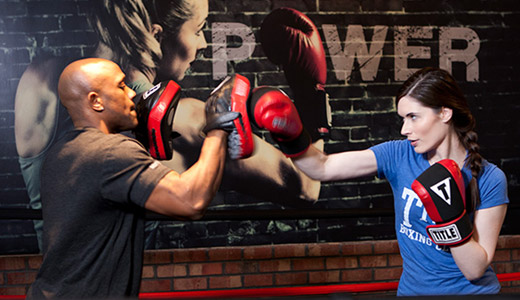 Here are four reasons that boxing isn't as intimidating as you'd think:
No one is judging you, everyone is focusing on their bag. Once that bell rings it's you vs. the bag. There isn't anyone in class paying attention to your form or what you look like. The workout is so much fun and sointense that members are dialed into each punch. It truly is a judgement free zone.
The trainers are there to support you, not yell at you. A stigma about trainers is that they are going to yell and you and push your body to the limit. While that is true, TITLE Boxing Club trainers are there to inspire you and help you find your inner power. That is a huge difference in mentality and creates a different type of atmosphere.
Anyone can box, you don't need to know what you're doing. While many of our classes feature individuals who have never boxed before, our trainers and members will make you forget you're a first timer. They will show you the punches and combos while being there each round of the way as you become more comfortable hitting the bag. 
No gloves? No problem, we've got you covered. When you come to a TITLE Boxing Club and take your first class we have gloves for you to use free of charge! We also have different options for wraps and other great retail!
So what are you waiting for? Once you are in the door and try boxing you will experience the feeling that has captured the hearts of over 60,000 members worldwide.
Here's where to find a TITLE Boxing Club near you: TITLE Boxing Club Locations