Entrenamiento
La experiencia
TITLE Boxing Club is the best and only authentic full-body boxing workout that changes your body, clears your mind and completely engages your spirit.
Our signature workout utilizes the fundamentals of a true boxer's workout – including proper heavy bag training - to strengthen and tone your arms, legs, back, core, stamina and your confidence. Empowering, exhilarating and totally addictive—this is your new favorite workout class.
Learn more about our high-intensity boxing, kickboxing and MMA workout classes below.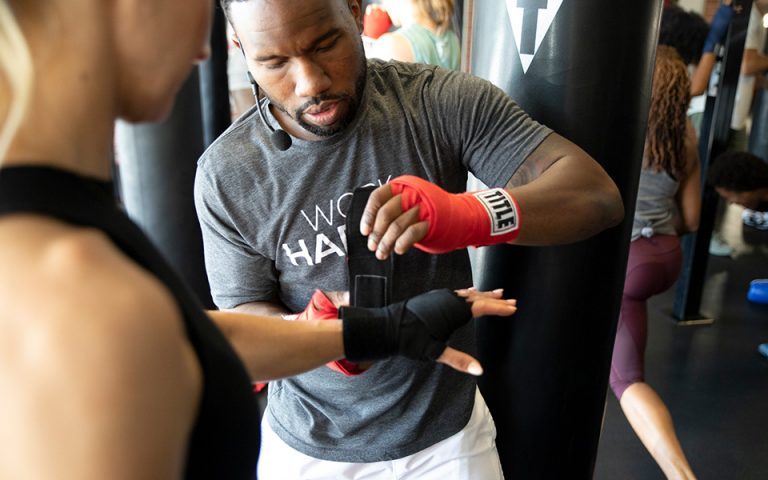 No solo levantes pesas. Levantate.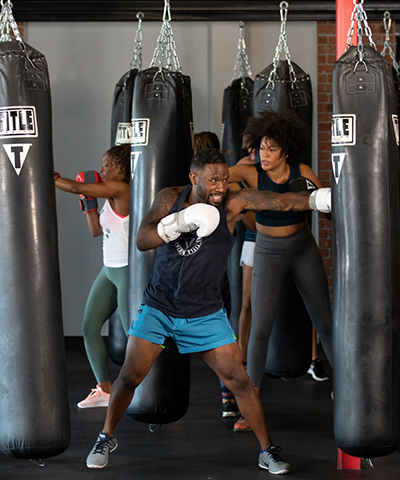 Los guantes no son una declaración de moda.
Boxing Classes
This high-intensity interval training workout sculpts your body and burns calories like nothing you've experienced before. Your trainer will lead you through explosive boxing rounds where you'll deliver jab, cross, hook and uppercut combinations, working your entire body on our 100-pound heavy bags.
LEARN MORE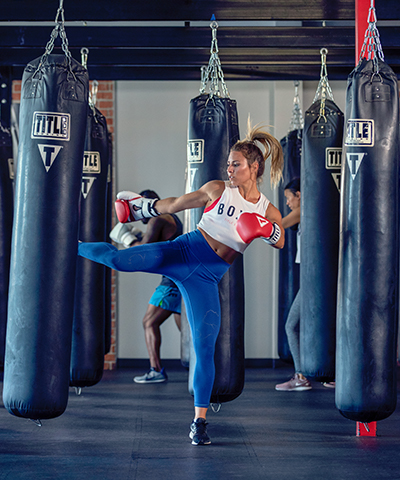 Cavar profundo es nuestro mantra.
Kickboxing Classes
Our kickboxing workouts incorporate kicking and punching for a dynamic, challenging experience. You'll keep your body guessing as our trainer pushes you to use your personal power in every style of kick and punch throughout our rounds.
LEARN MORE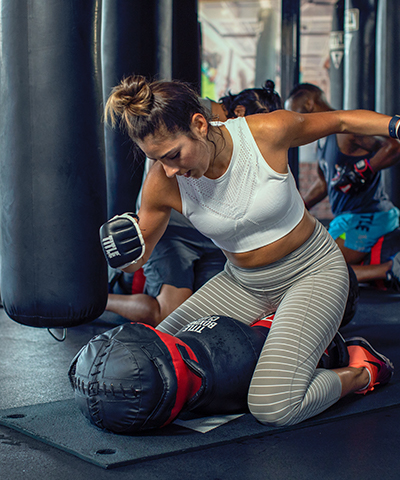 Un nuevo nivel de empoderamiento.
MMA Classes
Our newest workout, offered in select locations, is a Mixed Martial Arts – influenced class designed to elevate your fitness ability and condition your body. Bag work on the ground blends with boxing and kickboxing on the heavy bag for an ultimate full-body challenge.
LEARN MORE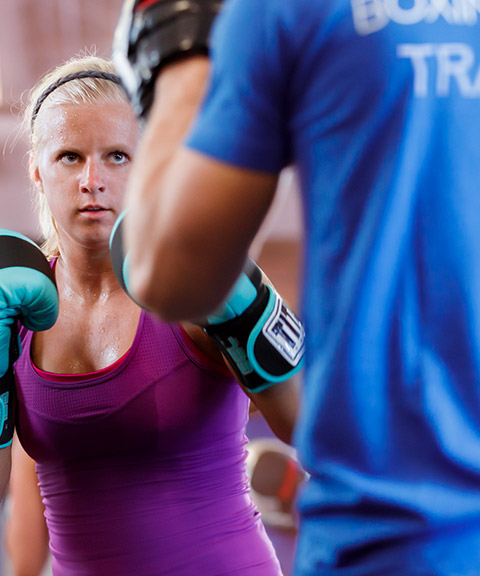 Entrena tu cuerpo y tu mente.
Entrenamiento Privado
Nuestros entrenadores experimentados no intimidan, sino que te inspiran a convertirte en el campeón de tu vida. Elija Capacitación privada o grupal para llevar su técnica al siguiente nivel y acelerar sus resultados. Rápidamente se obsesionará con su cuerpo haciendo cosas que no pensó que podría hacer.
Que Esperar
Calentar
The best HIIT workout of your life starts with trainer-led shadow boxing, cardio drills and stretches to get your heart pumping. You'll begin each class with a solid stretch and calisthenics to prepare your body for punching or kicking the heavy bag during the rest of the workout. Think: lunges, squats, shadow boxing, jumping jacks and more to get a total body workout.
Las Rondas
Each of our boxing workouts consist of three-minute rounds where your trainer will lead you through a series of punches and kicks on the 100-pound heavy bag. We'll tell you, show you and teach you how to execute each move throughout the rounds.
Descanso Activo
Entre cada ronda mantendremos tu mente y tu cuerpo ocupados con calistenia para tu período de descanso activo. Cada período de descanso activo es de un minuto de duración. Puedes forzarte a ti mismo y a tus límites durante este período o tomar un rápido descanso acuático y saltar directamente a la siguiente ronda.
Núcleo y Enfriamiento
Termine su entrenamiento con la parte más difícil y esculpida de nuestra clase. Los entrenadores lo guiarán a través de un entrenamiento abdominal de fortalecimiento y tonificación para definir su núcleo. Termina tu entrenamiento inspirado.
Opciones de entrenamiento
Clase de 30 minutos
Nunca permita que un estilo de vida ocupado se interponga en el camino de su salud. Obtener el mismo sudor en la mitad del tiempo.
Tu clase consistirá en:
Calentamiento de 7 minutos + Cuatro rondas de 3 minutos + Núcleo de 7 minutos
Clase de 45 minutos
Estas horas de energía reducidas se adaptan a las necesidades de quienes tienen poco tiempo pero aún desean un gran entrenamiento.
Tu clase consistirá en:
Calentamiento de 7 minutos + Ocho rondas de 3 minutos + Núcleo de 7 minutos
Clase de 60 minutos
¡Triture calorías en nuestra exclusiva clase Power Hour que pasa volando porque se está divirtiendo tanto, pero deja su cuerpo en llamas durante días!
Tu clase consistirá en:
Calentamiento de 15 minutos + Ocho rondas de 3 minutos + Núcleo de 15 minutos
Clase de 75 minutos
Desafía cada músculo al máximo y nunca, nunca, a la meseta. Ya eres un vencedor, pero enfrenta una de estas clases y gana el último título de campeón.
Tu clase consistirá en:
Calentamiento de 15 minutos + Doce rondas de 3 minutos + Núcleo de 15 minutos