Club Event - February 24, 2018 - 11:15:00
GO RED Boxing Class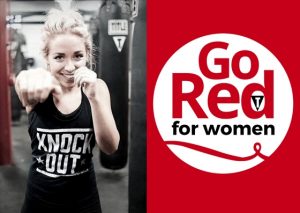 Join TITLE Boxing Club in helping Knockout Heart Disease! We're hosting a GO RED 1 Hour Boxing Class to benefit the American Heart Association's "Go Red for Women" campaign. Donations will through the month of February and at our Go Red Boxing Class!
Someone passes away from heart disease, stroke or another cardiovascular disease every 43 seconds in this country. This is your chance to help save lives. Class is free to Members and Non-Members. Children ages 8 and up are welcome to attend! Wear Red to class to be entered into a Raffle! Snacks and drinks afterwards.
Non-Members: we will need you to arrive 15 minutes early to get you wrapped and ready for class! Donate $5 and receive FREE Hand Wraps. Gloves Provided.
Reserve your Heavy Bag Today! Call or Text HEART to 616-956-6549