Nov 8, 2018
Kristin's Success Story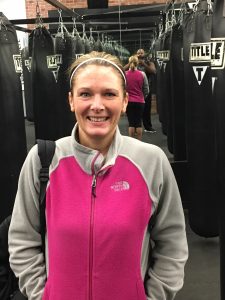 Here at TITLE Boxing Club Liberty Township, OH, we believe that our members do not only come to our boxing classes because we are a boxing gym located near them, but because they buy in to our brand and our culture. We use a boxer's workout to enhance the body and to change our members mentality when it comes to fitness. Our goal is to help you challenge yourself by hitting the bag and fighting through your personal challenges. We encourage this by providing our members with a full-body workout that incorporates different techniques, such as HIIT, cardio, boxing, kickboxing, MMA, core, and strength. The trainers even go a step further to offer one on one private training sessions. During these sessions, our experienced trainers will not intimidate, but inspire you to become the champion of your life. They will drive your body to limits that help accelerate results. After leaving our workouts at Liberty Township, OH, you will become obsessed with the feeling that your body can now do things that you didn't know it could.
TITLE Boxing Club Liberty Township, OH wants to spotlight Kristin Blanton this month for being an awesome and dedicated member of our family. Kristin has shown tremendous strength during her time at TITLE  and continues to push herself every day. TITLE Boxing Club Liberty Township, OH is not only a gym that is located near her and her family, but a gym that has welcomed and supported her since day one. Here is what Kristin has to say about her story:
I am very honored to be TITLE Boxing member of the month for November.

This is my third year of being a TITLE member, and I love the challenging workouts and friendly faces. I am a cardio lover and if I am not boxing, I am either attending spinning classes or running. My husband often jokes that I am not allowed to join another fitness/gym membership.  My favorite classes….the boxing plus classes as it has helped spike my interest in more weight and strength training.

I was born and raised in Sandusky, Ohio. Graduated in 2001 from Eastern Michigan University with a degree in Occupational Therapy. I work for Care Connection of Cincinnati since 2006. My husband Jeff and I moved to West Chester, Ohio in 2004 and we have three children Macey (11), Chace(9), and Cade (7).

"You know you're hooked when taking a rest day takes more discipline than working out"

The above quote describes me! Some would say I have an exercise addiction, but it truly makes me happy and helps get me through the day! It also helps me combat my not so positive vices of pizza, ice cream, the sun, and Miller Lites!

I also enjoy reading, vacations, country music, Friday happy hours, and watching my kids in all their sporting events!

Looking forward and blessed to staying active and keeping it moving with TITLE!
Thank you for being a dedicated member and trusting us at TITLE Boxing Club Liberty Township, OH to help you hit your boxing fitness goals!