Sep 5, 2019
Rachel's Success
Choosing a gym to join can be extremely difficult, but here at TITLE Boxing Club Liberty Township, we try to make it easier. We have an extremely supportive staff that will help you reach your boxing for fitness goals and will help push your body to its limits. We are able to do this by incorporating different workout techniques into one boxing workout. By utilizing a boxer's workout, you have the ability to burn up to 1000 calories per workout, along with building muscle and sculpting the way you look and feel. We incorporate cardio, boxing, kickboxing, core and strength training all in one workout so that your body experiences an entire body workout. Lifting weights is great, but we want you to also lift yourself to be better each day.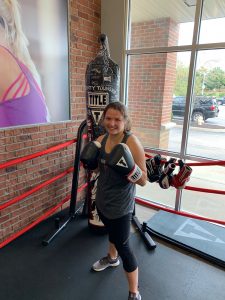 Meet Rachel Drakes, our TITLE Boxing Club Liberty Township member of the month. She not only joined our club because we were a boxing gym near her, but she wanted a change from her previous fitness routine. By joining TITLE Boxing Club she has been able to experience a full-body boxing workout that incorporates cardio, strength, and core training. Her dedication to our kickboxing, boxing, and HIIT classes have allowed her to hit her boxing for fitness goals each month. Burning 1000 calories per workout has changed both her mind and body and has given her motivation. Here is what Rachel has to say about her time at TITLE Boxing Club Liberty Township:
"I joined TITLE a little over a year ago, originally at the Kettering location. At the time, I was in grad school at UD and was tired of going to the gym everyday. It was really hard to motivate myself to go. I had previously been a competitive swimmer from the age of 8 through college. I realized I was definitely missing the atmosphere of someone pushing me to my limits. I also needed a new stress reliever. When a friend suggested I try boxing, I was apprehensive, as it was something completely new to me. However, after the first class I was hooked. 
I switched to the Liberty location upon graduation while interviewing for jobs, and I fell in love with this location. The impact technology helps me stay motivated and brings out the competitive side in me that I have always had with swimming. The trainers are incredible. Each class is unique and always a great full body workout. The trainers definitely know how to motivate you. The members of TITLE have always been very welcoming and friendly. I realized this location was close-knit and really a family. 
I started working as an Emergency Medicine Physician Assistant at Kettering Health Network in July. Even though I moved to Beavercreek, and the Kettering location is five minutes from my apartment, I still drive to the Liberty location on my days off because this location has something special!"
Thank you, Rachel, for being part of our family! You are a great inspiration to all of us at TITLE Boxing Club Liberty Township.