Dec 10, 2018
Paul's Success Story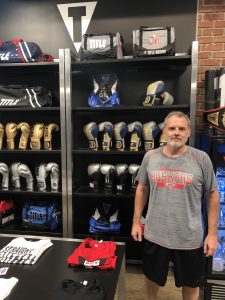 At TITLE Boxing Club Omaha, NE, we utilize a boxer's workout/techniques and incorporate those into a group fitness class. The workout will strengthen your core, tone your arms, and sculpt your muscles. Our boxing workouts contain jab, cross, hook, and uppercut combinations that will help you burn calories while sculpting your body. Not to mention, our kickboxing and HIIT training classes that also utilize a boxer's workout to train your core, back, and upper body. At TITLE, we pride ourselves in helping our members accomplish their goals in a supportive environment. We have decided to take boxing out of the ring and bring kickboxing and boxing into a motivational environment that will help you reach all of your boxing for fitness goals.
Meet Paul Vojchehoske, our TITLE Boxing Club Omaha, NE member of the month. Paul joined our TITLE fam a while ago, but in July he decided to make coming to our boxing gym a priority. Since July 23, Paul has come to our boxing club 3-4 times per week.  His dedication to our kickboxing, boxing, and high-intensity interval training classes have allowed him to hit his weight-loss goals. Burning 1000 calories per workout has changed both his mind and body and has given him the motivation to keep improving his boxing for fitness technique. Here is what Paul has to say about his time at our boxing club in Omaha, NE:
I've been a member for sometime but decide on July 23rd, 2018 – that I was a fat, disgusting blob and things needed to change. So, I made it a priority to eat healthy and workout at TITLE Boxing Club 3-4x per week. On July 23rd, I weighed 218 lbs – today I'm at 190! Feeling Great.
This member has used our boxing for fitness workouts to lose 28 lbs and transform his body, and we are extremely proud of the progress that he has made. Thank you, Paul, for being part of our TITLE Boxing Club Omaha, NE family! We can't wait to see you in your next class!