Aug 9, 2018
Whitney's Why!
In honor of "Back to School", we'd love to share this awesome TITLE story from one of our very own Allen ISD teachers, Whitney Wolff:
"I could not be more excited to tell the world why I LOVE Title boxing!
A little about me: I was raised an Air Force brat who traveled all over the U.S. My dad was killed in a B-52 crash when I was 15 and this led the rest of my family go back to Texas, where I eventually became a Texas Tech Red Raider! I currently am a Special Education teacher in Allen ISD, getting ready to start my 12th year of teaching! I chose Special Education because I myself have a severe and profound hearing loss, and I believe that no matter what obstacles one faces, learning can always occur, and all children CAN learn. I am also a mom to two precious children. In October of 2017, my very difficult divorce was finally, final. I felt drained and defeated. My self-esteem and my confidence was at an all-time low. I was a little bit angry, and a lot sad, a lot of the time. I was stressed to the max. I needed something to break the funk I was in. Someone said, "Have you thought about TITLE Boxing Club?" So, I thought, and I thought. I almost didn't come because of my hearing loss. It is extremely difficult for me to hear anything in that type of environment, but I thought, why not try? I am forever thankful that I did.
Title's staff and trainers are truly amazing! When it comes to my hearing loss, everyone works with me to make sure I know what I am doing. The trainers all walk around and when they see I am off, they work with me to get me back on track. They keep me motivated to keep going, and encourage me to do my best. I have been a member for 9 months now and have loved every minute of it. At ALMOST 40, I am in better shape than I have ever been, physically and emotionally. I like to tell people that TITLE does not just work out your body, but it feeds your soul. The staff learns your name and you truly feel like part of the TITLE "family".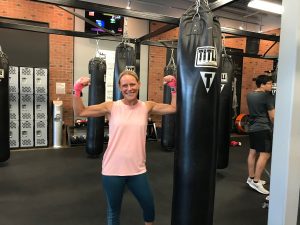 I have been through so many different things, and my advice to women is "LOVE yourself. Be true to you and feed your body and your soul. Sometimes we are expected to wear so many hats and be so many things to different people, but you have to take care of yourself first. No matter where you are at, you are beautiful and worth it, so just do it. Just start."