Authentic Heavy Bag Workouts
Take it out
on the bag

Austin, TX. 78717
13945 US Highway 183, Suite C-3
northaustin@titleboxingclub.com

Open Today:

7:30am - 8:30pm
Your First Class
Let's make it happen together at TITLE Boxing Club Austin North. We welcome boxers of all fitness levels and are in your corner to make your first class experience easy and fun.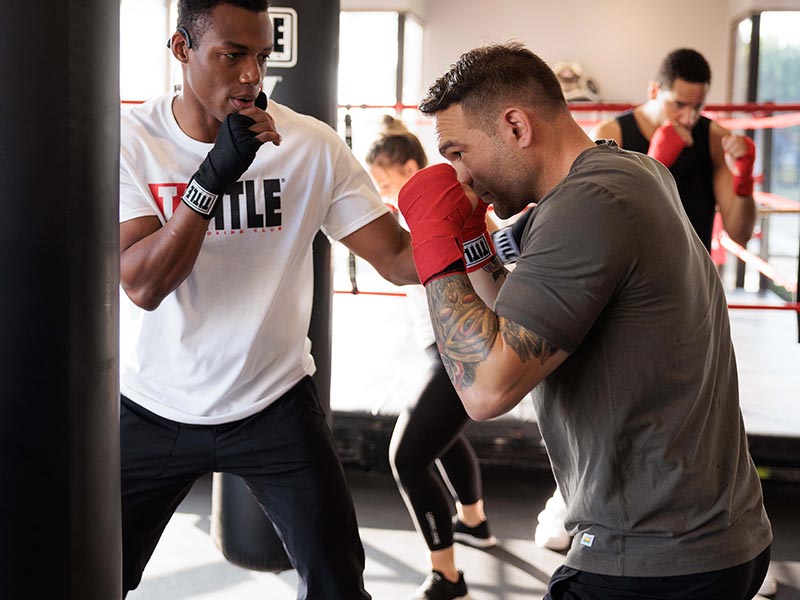 Our workouts are for all ages, all abilities and all fitness levels. Every participant in class is encouraged to go at their own pace. If you need to stop, catch your breath, stretch or get a drink of water, it's no big deal – everyone does it! Hop back in when you're ready and we'll be there right next to you cheering you on!
Of course! We know the best things in life are best shared—including being nervous to try something new! Convince your friend, colleague, partner or family member to sweat it out with you and you will have an accountability partner for life. When reserving your class simply tell us who you'd like to bring, and we'll make sure we reserve two bags.
When you arrive early before class, we use that time to get to know you and customize your experience. This is a great time to go over your goals and discuss any modifications you prefer due to an injury or based on your fitness level. If you're feeling nervous about your first class, let us know, and we can take class with you or find unique ways to make it more comfortable!
Staying true to how boxers train, our workout starts with a warm-up, then moves into boxing or kickboxing rounds, and finishes strong building your foundational strength in your core. Boxing is a full-body workout and you can expect it to incorporate your arms, back, chest, core, legs and glutes in the various movements and combinations.
Our classes are a total-body workout inspired by the sport of boxing. People of all ages, all abilities and all fitness levels are side by side in class with you—think young professionals, moms and dads, fitness first-timers, handicapped individuals, people trying to lose weight, gain muscle, get better and go at their own pace. Once the bell rings and class begins, all of your fears reside and the class experience truly becomes only about you and the heavy bag.
Member spotlight
I cannot recommend TITLE enough! The classes are fast, and fun and they play great music. Stop by to try a class and you'll see why so many people love TITLE Boxing Club!
Tara F.
I joined TITLE Boxing Club because I wanted to gain confidence. Now, I feel powerful and it's a blast learning to throw a punch. This has been so much more than just a boxing class.
Kathleen I.
Great workout head to toe – cardio, muscle building, losing weight…it's all right here. And the camaraderie you build with other members is second to none.
Daniel L.
Workouts are fun and taking your stress out by hitting a heavy bag is awesome.
Julie M.
I love this place! I had wanted to try boxing workouts for a while, but I was intimidated. I finally checked it out and I've been going ever since! Super fun and engaging workouts.
Cory A.
Recent TITLE Boxing Club Austin North
Blogs

Fitness Success – Showing Up For Yourself
Fitness journeys can be tough, filled with obstacles and moments of doubt. But at TITLE Boxing Club , we're here to remind you that there is immense power in showing up for yourself on the path to reaching your fitness goals. One of the most significant hurdles in achieving any fitness objective is simply getting […]
Why TITLE Boxing Club Workouts Are For Anyone
When you think of boxing, you might envision a ring, gloves, and fierce competitors battling it out. But there's another side to this sport that's taking the fitness world by storm: boxing fitness. At TITLE Boxing Club , we believe that heavy bag workouts are for everyone, regardless of your age, gender, or fitness level. […]